GE's Cloud Transition – 4 Takeaways
---
By

Luke Smith

·

6/14/2016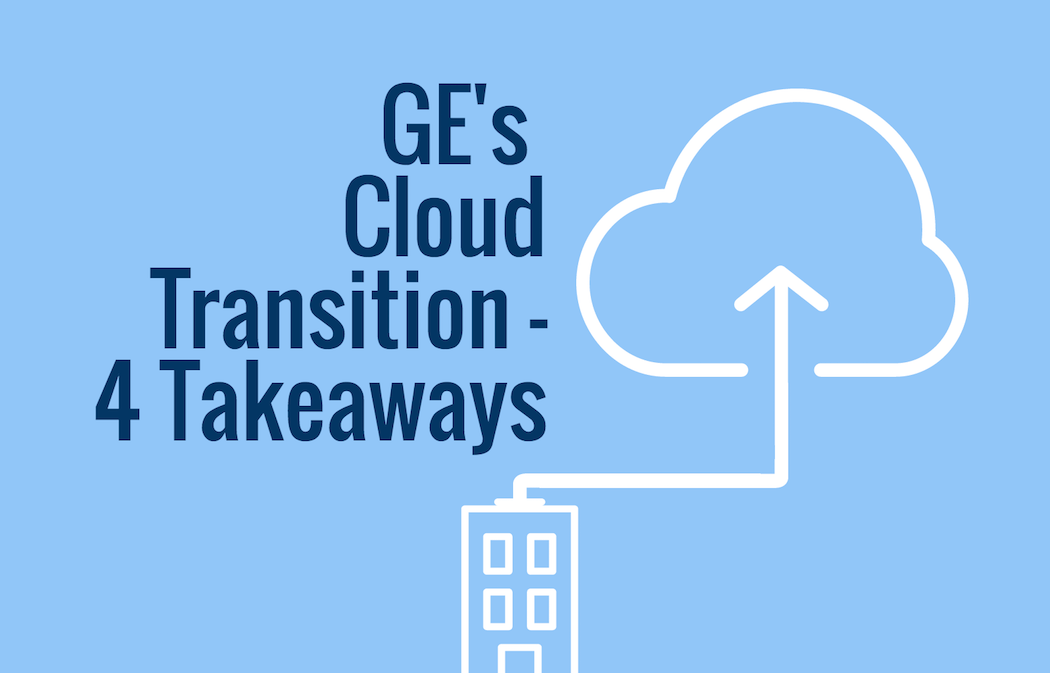 Cloud has quickly become one of the more popular data center solutions, as up to 95% of companies use this as a strategy. When implemented correctly, cloud can save companies both time and money. This is why cloud draws most of its business from companies with smaller IT requirements or large corporations looking to simplify a small number of apps and/or operations. Corporations with large requirements often find cloud migration more expensive and experience obstacles along the way, making complete cloud reliance a difficult solution. This makes GE's recent decision to migrate nearly all their operations to cloud even more interesting, given GE's size and scope of IT infrastructure. Network World recently interviewed the company's CTO, Chris Drumgoole, on why they chose to migrate to cloud, obstacles they faced, and what they gained. Here are 4 key takeaways from the interview and how they apply to the greater cloud market:
1. If you don't go all in with cloud, you don't get all the benefits.
"If you want to stick your toe in the water, then you're probably going to be disappointed. If we weren't all in, we wouldn't get the real benefit of the cloud" says Drumgoole. Many companies have small portions of their operations running through the cloud, leading to the recent growing popularity of hybrid cloud solutions. They gain flexibility and scaling options cloud provides while maintaining the security and simplicity of colocation in a physical data center. While hybrid solutions offer many benefits, Drumgoole says that you don't truly gain benefits of operating in the cloud unless you go all in.
2. The market is full of complexity. It's those that simplify the complexity and make it easier for customers to buy that will win.
Drumgoole makes this point by stating "we don't want to buy complexity we don't need." The cloud is complex. Furthermore, many functions and regulations are made for a system involving physical data centers, and haven't been adequately adapted for virtual environments in the cloud. When migrating to the cloud, companies want a cloud provider who reduces complexity. Cloud providers who are able to make operations easier will position themselves for growth in the data center industry.
3. In some cases, the more expensive solution can be the better one. While cloud does offer cost benefits, it's important to understand how those relate specifically to your company.
"Some people may assume that going to the cloud is a substantial cost savings. But Drumgoole says it's not significantly less expensive to use the cloud for a company the size of GE. 'And if you do it wrong, the cloud can be a lot more expensive,' he says." The cost-savings associated with the cloud has been one of the biggest factors that draws users to cloud solutions. As Drumgoole pointed out, however, a company the size of GE often does not see a significant drop in expenses. In many cases, companies can underestimate the cloud services and infrastructure they actually need, leading to a cloud solution that can be more expensive than their previous solutions. GE, however, has saved up to 35% in costs by adequately planning for their migration. Instead of trying to fit their new cloud solution into their current process, they changed their entire system to run more efficiently with cloud, cutting out redundant staff involved in development and streamlining the way they monitor their data. All of this avoids the unforeseen expenses and trims away the unnecessary components of operating in the cloud.
4. Data center consolidations for efficiency in the industry are happening, and companies need to adjust strategies accordingly. GE is reducing its data centers from more than 30 to the single digits.
'"Some of the legacy, single-technology developers struggled with deploying and moving apps when we took away the support envelope of a traditional infrastructure team,' he says, adding that the challenge has largely been overcome, though it required a shift in mindset." In order to effectively make the transition into the cloud, everyone needs to be on board. Companies must be ready and willing to change in order to fit into a more efficient solution that will pay off in the long term. Without this, cloud migration can be a tiresome process that leads to greater inefficiency than before. Understanding the system will allow team members to correctly implement their strategies.
With GE's success in moving to the cloud, we may begin to see a shift in the way large businesses approach their data center solutions. Although cloud itself is not a new concept, major adoption by larger businesses has been a recent development. There is still plenty of room for cloud providers to improve and reduce complexity. As more large companies try to emulate GE's data center strategy, we will likely see improvements from cloud providers making their services more accessible for larger companies. Furthermore, we'll likely see these large companies redesigning their strategies to fit better with a cloud strategy.