The New Data Center Provider-Municipality Relationship: A Case Study in Texas
---
By

Luke Smith

·

5/16/2017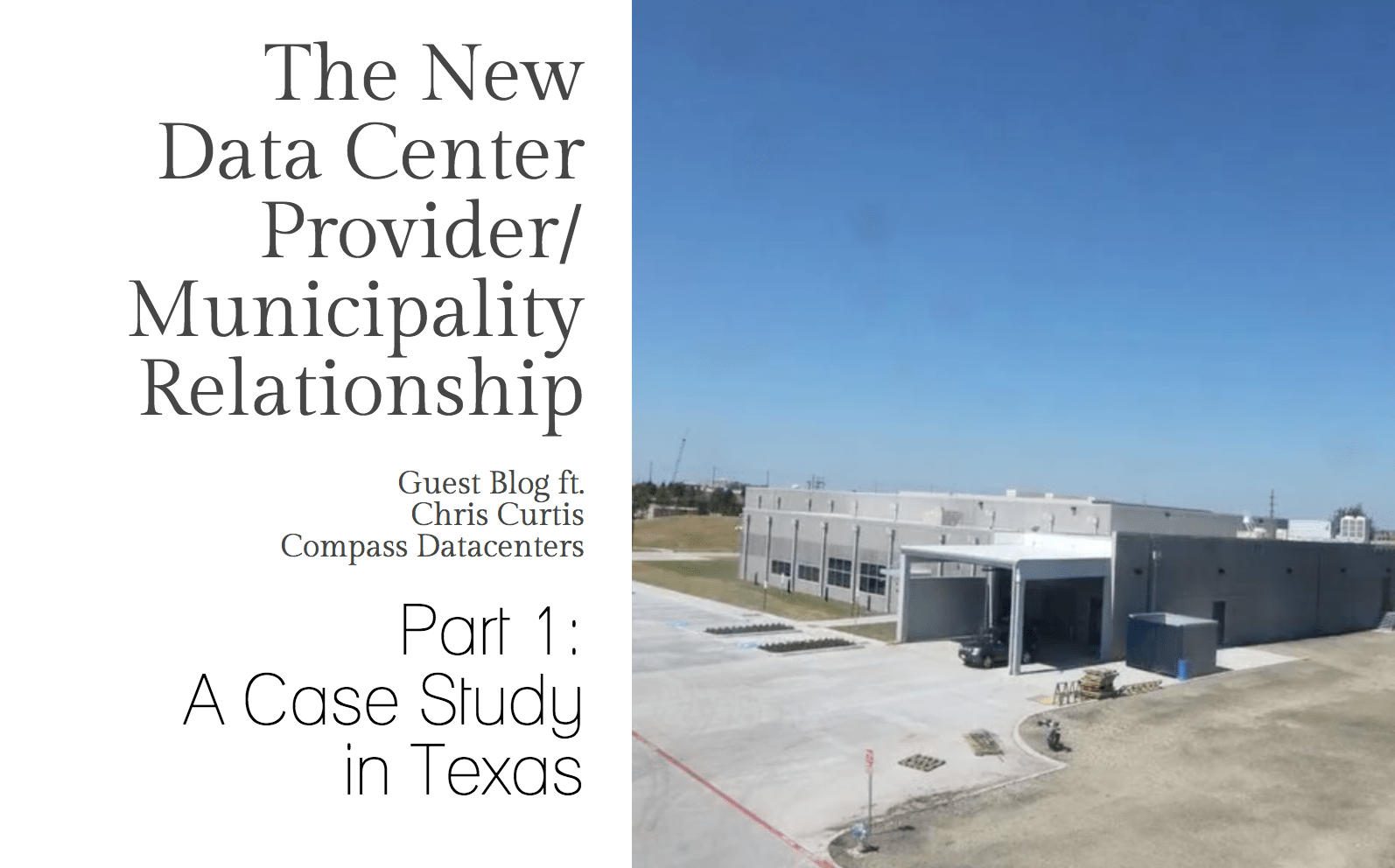 In September 2016, TierPoint announced their plans for their newest data center in Dallas. The 16,000 SF data center was to be constructed by Compass Datacenters, a provider of build-to-order solutions for companies around the country. With the grand opening of the facility to take place on May 18th of this week, we reached out to Compass to learn about the project, their successes, and the obstacles they overcame to deliver a Tier III data center in a quick time-frame. Here is Chris Curtis' story on how they made it happen.
---
Speed of delivery has always been a bullet point on most data center providers' corporate presentations, with each promising "delivery of your new data center space" in "months not years." Unfortunately, the true schedule for the construction of your new data site isn't simply the duration required to build it. You must also include the time required for its site acquisition and development, which is often significant given the complexity of the steps involved. The emergence of increasingly aggressive customer delivery requirements underlies the need for a close relationship between the provider and economic development arm of a prospective data center community since even what appears to be a simple transaction rarely is.
The recent "public/private" project that we completed with the assistance of the Allen Economic Development Corporation exemplifies the importance of a close working relationship between a provider and their municipal "partner" to meet customers' increasingly narrow delivery timeframes.
Background
Tierpoint, a leading colocation and cloud services provider, was seeking a new Dallas facility with a March 31, 2017 turnover data and initially approached Compass about the project in August 2016 (only seven months in advance of their desired occupancy date). Tierpoint envisioned a multi-phase project. The initial phase of the project will deliver 1.2MW of power and a 16,000 sq. ft. raised floor data hall within a 30,000 sq. ft. building.
The Dallas-area data center real estate market is highly competitive. Tierpoint had looked at multiple locations within the D/FW area. Compass, in preparing its proposal to Tierpoint, re-opened discussions with the Allen Economic Development Corporation (AECD), regarding a plot of land that had previously been discussed for an earlier potential project.
Acquiring the Site
The city of Allen, just north of Dallas, has become an aggressive competitor for new data center business part of its strategic growth plan. In concert with the focused efforts of the AEDC, the city has put together a package of incentives that includes:
1. Sales tax abatements to provide equipment cost savings
2. Infrastructure grants that defrayed the costs associated with the development and construction of storm water containment facilities and in bringing the necessary utilities to the site
3. Fast track entitlement to aid in streamlining the various processes associated with municipal approvals and permitting.
Since Compass and the AEDC had previously discussed the site, both parties were intimately familiar with key elements such as the location of utilities like water and power and the proximity to major sources of fiber so it would seem that all that would be required to conclude the sale would be affixing signatures to a pile of documents. Someone once said, "Even when you think it's done, it just ain't done," while not the most optimistic of perspectives, it is a pretty accurate characterization of a typical real estate deal and this one was no different.
In reviewing the formal property boundaries, it was discovered that the land abutted a major highway. You'd think that would be a good thing, convenient access and all that, except, in this case, local ordinances require a 3 yard "buffer"—to provide an easement for the potential installation of telephone or power lines—from a major thoroughfare. Although not the most onerous of regulations, it raised the question as to the actual size of the property to be purchased and, accordingly, the purchase price. Naturally, this necessitated negotiation process between Compass, the AEDC and the seller to reach a satisfactory agreement.
The impact of this issue was exacerbated by the timeframe for the project which reduced the normal "acquisition window" substantially. Along with this eleventh hour "who pays for what issue," Compass' ability to procure the site also required successfully addressing issues that are usually negotiated and resolved in a period of weeks or even months. To meet the project's ambitious schedule, the time-period for resolving these same considerations needed to be addressed and agreed upon in days.
For example, if the various approvals and permits necessary for entitlement could not be obtained within the abbreviated timeframe, the sale couldn't be completed thereby leaving Compass without a viable solution, with no alternatives, to offer Tierpoint. To alleviate this consideration, the AEDC provided Compass with the necessary assurances regarding the streamlined entitlement process thereby allowing the lease agreement for the data center to be signed with Tierpoint in advance of the completion of the final sale of the site. This is a practice that is normally advisable to avoid at all costs, but may be required more frequently as data center delivery requirements become more compressed and, as a consequence, necessitates that providers and site municipalities to work more in concert than ever before.
Not everything goes according to plan. In part two of this series we'll see how Compass and the AEDC worked together to solve a storm drainage issue.
About the Author
Chris Curtis is the Senior Vice President of Development and Acquisition for Compass Datacenters, which provides enterprises, service providers and hyperscale customers with data center solutions that reflect a dramatic change from conventional alternatives like wholesale colocation or traditional construction build-to-suits. Chris has over 12 years of experience in developing greenfield build-to-suit projects for federal government tenants, and he is a successful developer of complex build-to-suit projects for a wide range of other customers. As President of Curtis Investments LLC prior to joining Compass, Chris completed 25 projects in 22 markets for the FBI, DEA, Homeland Security, US Attorney's Office, SSA and VA. Prior to founding Curtis Investments, Chris was a tax attorney at Haynes and Boone LLP responsible for business formations, tax strategy and mergers and acquisitions. Mr. Curtis received a B.S.B.A. degree in Accounting from the University of Arkansas, a J.D., cum laude, from the SMU School of Law and an LL.M. in Taxation from the New York University School of Law.