The 5 Reasons Companies Lease Data Centers Reason 2: Flexible Solutions
Many companies find owning their data center infrastructure can be restrictive, while leasing colo or cloud infrastructure allows flexibility
---
By

Luke Smith

·

4/14/2016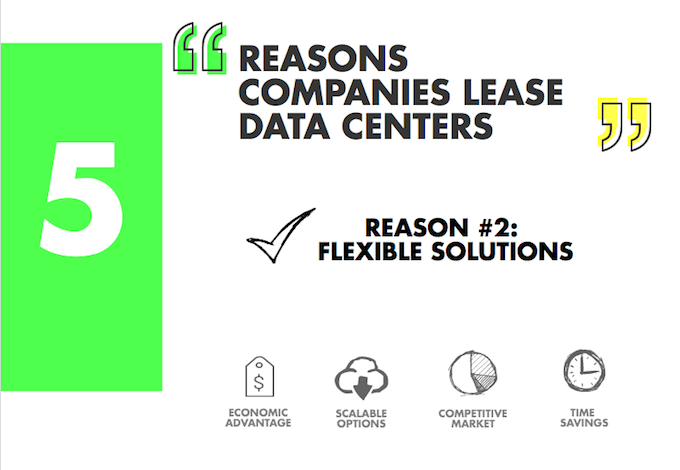 In our most recent blog series, we are evaluating the benefits of leasing data center infrastructure. While some data center users find that owning their own infrastructure is the right strategic move, many users understand the cost benefits associated with leasing over buying today and how it saves money on both up-front and long-term investments for the company. In today's blog, we focus on another advantage of leasing data center infrastructure: increased flexibility.
Geographic Flexibility
If placing a company's data center footprint in multiple US or global regions is important, leasing provides a significant advantage. By using colocation or cloud resources through third party operators, data center users can strategically place locations in multiple markets. The alternative is building data center infrastructure in multiple markets which is a long-term, high capital commitment that only proves financially viable and practical for a small amount of companies. Many users take advantage of data center operators that have multiple locations in the United States and the world.
Lease Flexibility
Colocation and cloud infrastructure provides lease term flexibility. Colocation data center operators are more flexible today with term commitments, often agreeing to three and five year terms today, which is different from the seven and ten year agreements from years' past. In addition, cloud operations can be charged by the credit card and by the day, creating an elastic solution for companies that need short term solutions for smaller periods of time. The smaller commitment from leasing colocation and cloud solutions allows companies room to adjust their infrastructure as their business changes over time.
Service Flexibility
A company's IT strategy should change as technology changes. Companies want their CIOs and CTOs to stay ahead of current trends and create environments of technical innovation. In order to meet that need and integrate cutting edge technology, a company needs IT infrastructure built to support their strategic vision. In addition, a company needs the ability to serve the business as needs change over time. Access to cloud, managed services, and dense network options are services data center operators are investing in today by creating ecosystems for their users to take advantage of over time. As end users' needs change over time, access to these services make leasing an attractive option.
For most companies, leasing data center infrastructure provides flexibility which is advantageous to their business. Multiple geographic options, shorter lease term options, and the operator industry's commitment to providing services over time to meet an end users' needs make leasing data center infrastructure an option that is poised for growth in the future.