3Q 2023 Data Center Market Recap
---
By

Luke Smith

·

10/26/2023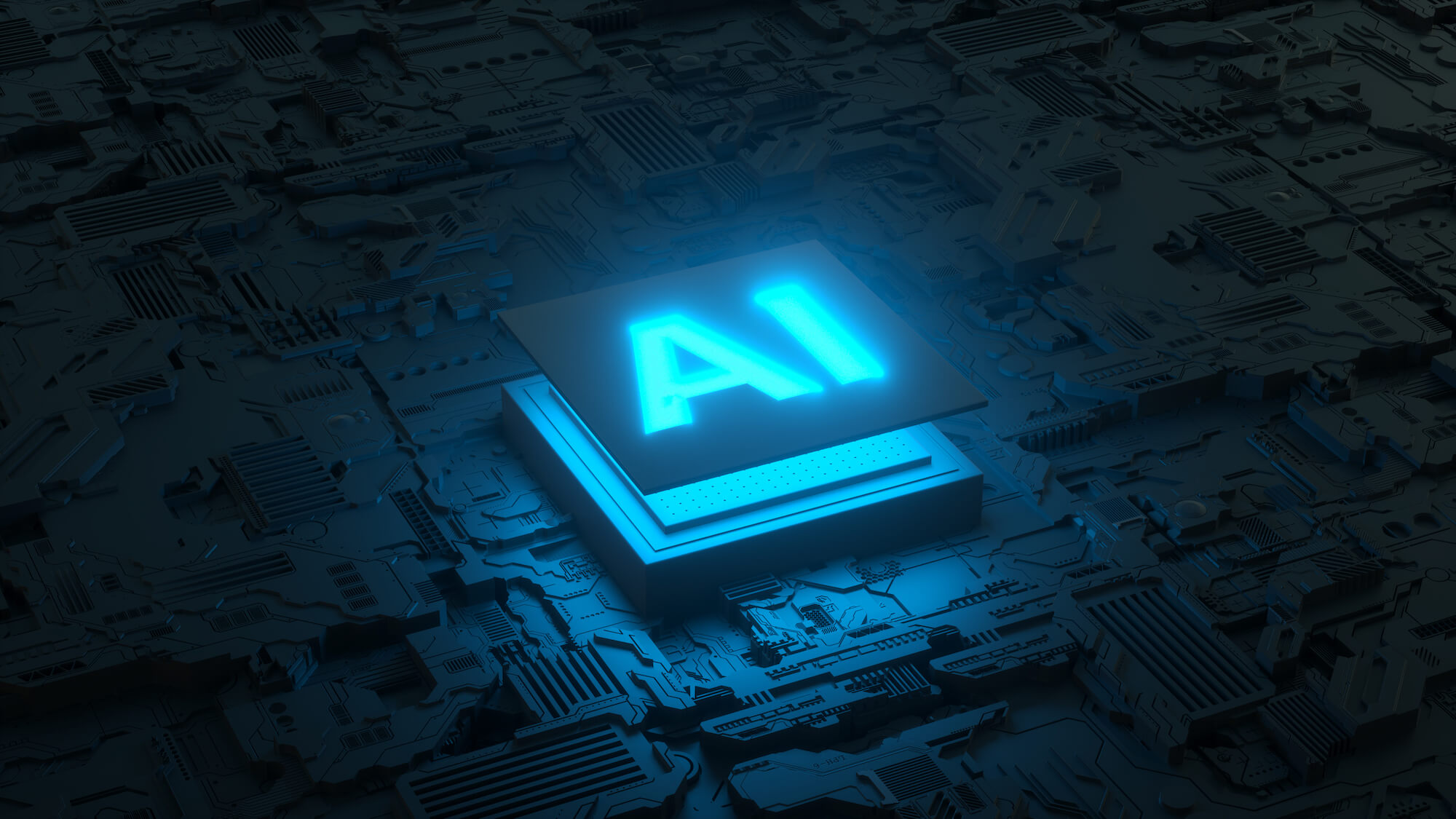 The global data center industry continued to climb in 3Q 2023 with over 1.4 GW of absorption across major markets. In the midst of this, many markets are acutely feeling the strain of demand and its impact on power transmission infrastructure and overall power supply. This, coupled with the beginnings of what's estimated to be massive demand from AI requirements, is driving demand into new submarkets of established areas and giving completely new markets an opportunity to attract large-scale data center development.
Top 5 Market Absorption in North America Year Over Year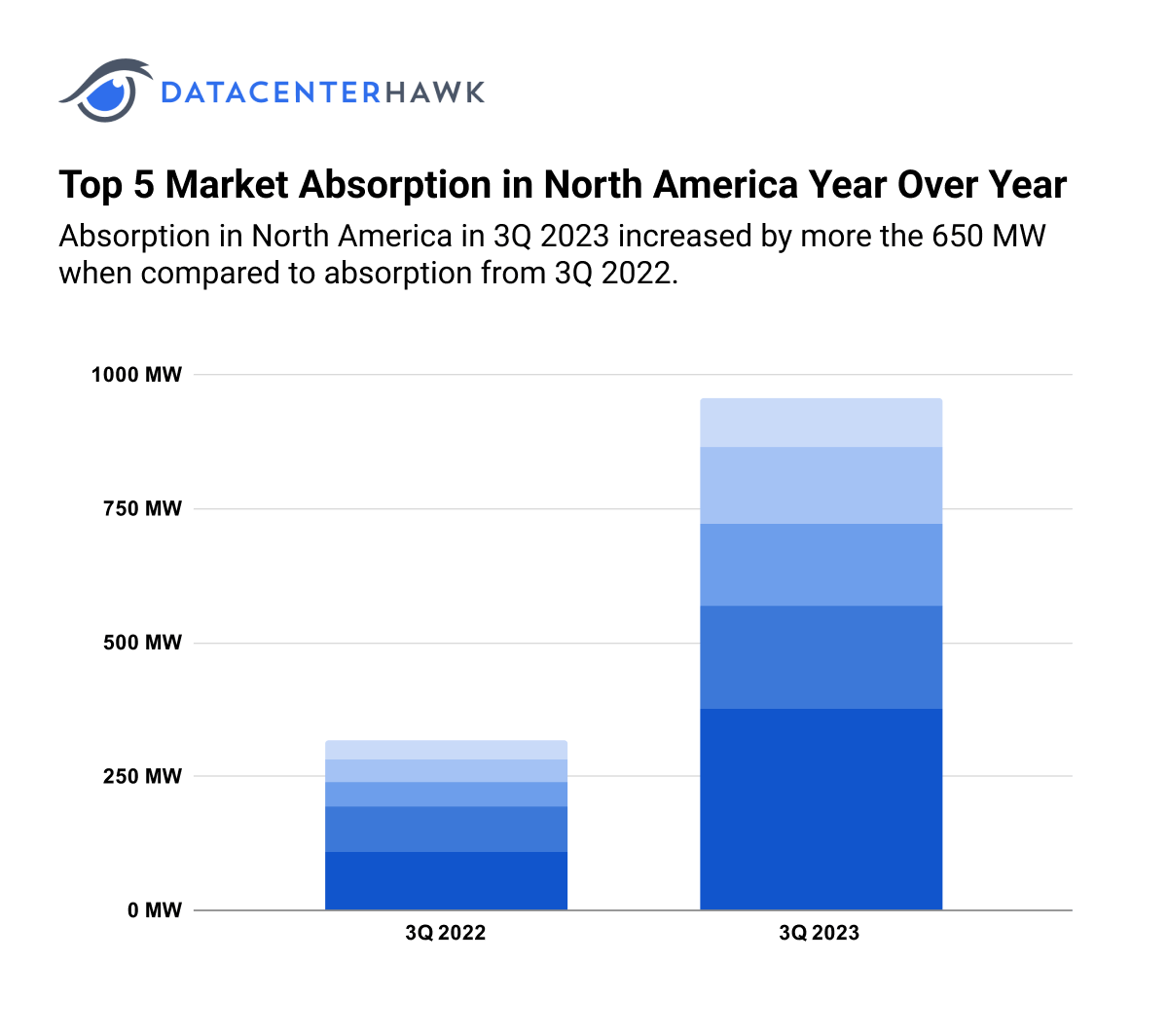 North American Data Center Markets
In the third quarter of 2023, North American data center markets saw continued growth, though not without industry headwinds. Securing power continues to be a challenge for developers, pushing some to the outskirts of primary markets, as well as fueling growth in secondary and tertiary markets. This has led to an uptick in land-banking by companies hoping to secure space and power for future growth.
Notable Trends & Markets
Campus development is here to stay
Campus developments are becoming more popular. Developers are now buying larger tracts of land, often hundreds, even thousands of acres for long-term development. Between southern Manassas and Richmond, VA, one hyperscale user has over 5,000 acres of land under control. Atlanta has also received more attention from land-buyers, hoping to capitalize on the region's power availability and favorable data center tax abatements (HB 696).
Atlanta leads North America for 3Q 2023 Absorption
Atlanta, Phoenix, Dallas and Northern Virginia led North America in leasing. The increase in absorption reflects the impact of AI requirements and the growth of cloud across the region. Hyperscale users also continue to look beyond primary markets to secondary and tertiary markets, as evidenced by developments in places like Boydton, VA and Umatilla, OR.
Prices rising as vacancies continue to drop
Prices continue to increase across the board. Low vacancies and limited optionality have created a landlord-favorable market, and with demand outpacing supply, asking rates continue to rise. Prices have risen 15% on average, year over year. The range of market pricing has also increased, highlighting the fluctuations in asking rates by market. The average vacancy rates across North America dropped 0.5%, from 3.2% to 2.7% quarter-over-quarter. Cloud providers continue to take most of the capacity in North America. AI and Machine Learning also continue to drive activity across US and Canadian markets, though the full impact of these rapidly growing industries has yet to be seen.
Looking Forward
Speculative capital will be spent more aggressively in markets that can accommodate campus development, with a runway to large amounts of power.
Submarkets within major markets will continue to grow from hyperscale users and data center operators.
Older, enterprise data centers will be targets for AI companies needing bridge power quickly, providing an environment that allows them to grow larger over time.
If you're interested in delving further into our North American data, don't hesitate to contact Ed Socia, our Insight Director – North America.
Latin American Data Center Markets
In the third quarter of 2023, Latin American data center markets experienced some headwinds that have temporarily slowed growth trends.
Macroeconomic Factors: The five largest Latin American economies have seen a drop in the GDP growth, slowing to 1% regionally from the post-COVID growth of 3 to 8% in 2022.
Inflation and Interest Rates: Inflation peaked in late 2022 but has since dropped to manageable levels based on the quick action of many of these countries of raising interest rates. The focus now is on restarting economic growth in 2024.
Supply Chain Delays: These delays for key infrastructure equipment have impacted delivery timelines. Data center providers that don't anticipate certain equipment purchases 24 months in advance are facing commissioning delays.
Power Constraints: Power constraints, especially in Querétaro, have led to delays in construction starts and in investment decisions in some markets. Access to power in Querétaro is a significant concern, with several projects experiencing postponements or cancelations.
Political Influence: Colombia's zona franca beneficial tax incentives debate within the government is stalling some projects from moving forward until this issue is clearly defined.
Latin America has an inventory of 750 MW of commissioned power distributed throughout the various data centers in the region. The top five markets-São Paulo, Querétaro, Santiago, Bogotá, and Mexico City, make up 550 MW or 73 % of the available capacity. São Paulo continues to be the market juggernaut with 270 MW of commissioned power, another 153 MW under construction, and 290 MW of additional capacity has been announced. Overall absorption for the top five markets was 42 MW in Q3, a low number for this region but with 233 MW under construction capacity and 1.1 GW of planned capacity we should see much higher numbers in the coming quarters.
Total Colocation Size for LATAM Markets Over Time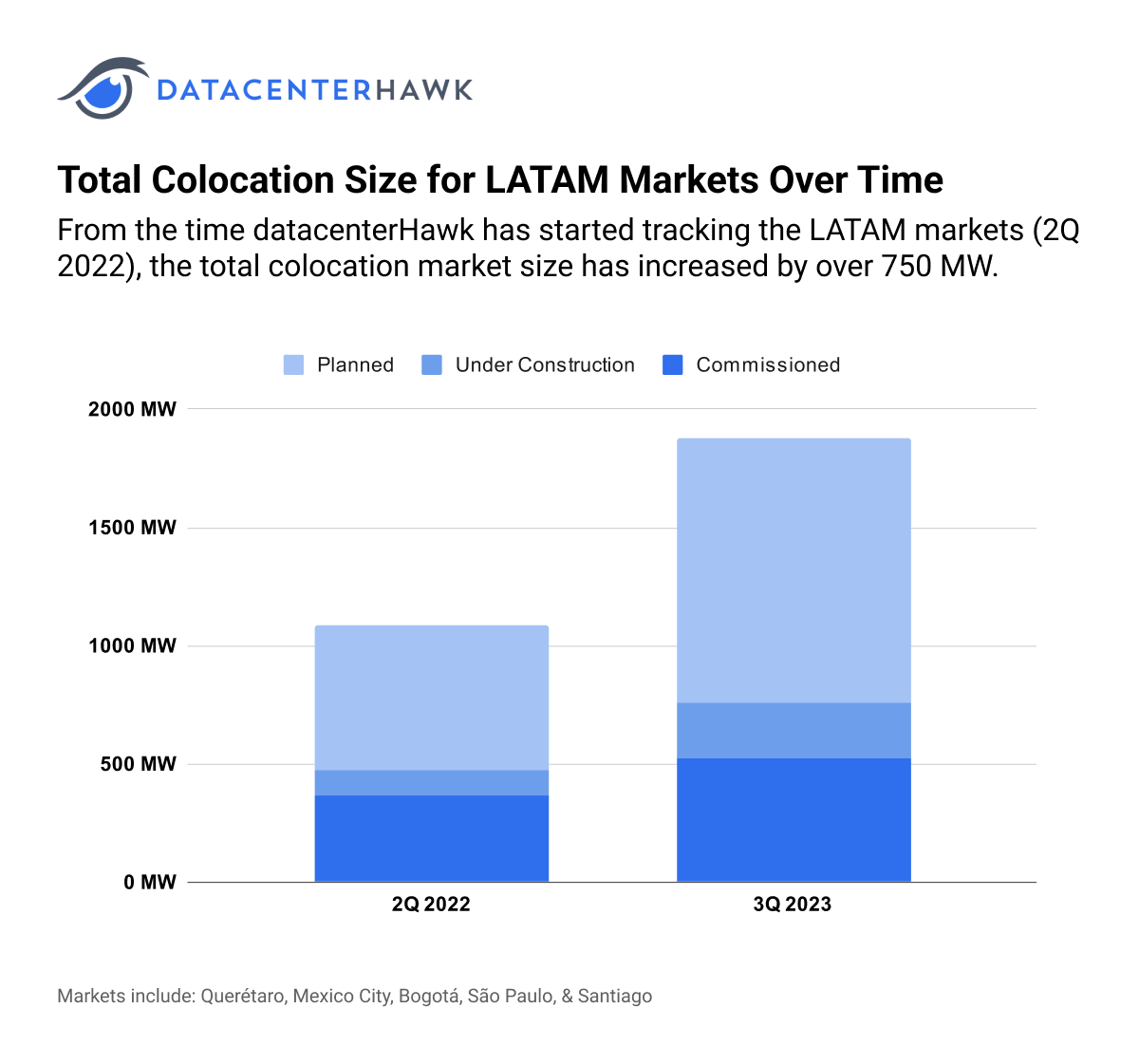 Notable Trends & Markets
Querétaro power constraints put a temporary damper on growth.
Like many other markets that witnessed rapid data center expansion, power access, and transmission infrastructure in Querétaro is limited. As a result, construction has been delayed, implementation of the big three cloud regions postponed, and two global hyperscale data center providers decided to pull out of the market altogether after initiating some land purchases. Access to power led to the creation of MXCD, the Mexican Data Center Association, so the data center providers can present a unified front with the government led Federal Electrical Commission or CFE. As a result, in September the Querétaro transmission PPP project was announced by the Querétaro Energy Agency. The project will install 140 kilometers of 1115kV high-voltage lines and two substations with an installed capacity of 1,500 MVA for US$342 million.
Possible expansion into secondary markets that could support AI
Even as the region has yet to fully develop local cloud infrastructure in more than one market, the discussion seems to be shifting to AI and whether Latin America will be able to support these larger, more dense deployments in the future. Less latency dependent AI training infrastructure could distribute development to secondary markets as long as power and fiber density are available, similar to what is happening in the U.S. That said, it is unlikely the region will be supporting large AI deployments until 2025, but will create substantial tailwinds for future growth.
Looking Forward
Latin America's digital infrastructure has a long way to go to catch up to the rest of the developed world. The U.S. has roughly 66 MW of data center capacity per 1 million in population. In contrast, Brazil has 2.75 MW, Mexico 2 MW, and Colombia 0.8 MW. Once the hyperscale deployments come online it will raise the LATAM overall numbers, but AI infrastructure growth in the U.S. will maintain this imbalance for the foreseeable future. To help minimize the gap, it's critical for Latin American leaders to recognize data center infrastructure as imperative for their country's growth. The priority for data centers at a national level motivates providers to invest, build, and operate sites in order to lower this digital divide.
If you're interested in delving further into our Latin American data, don't hesitate to contact Steve Sasse, our Regional Director – Latin America.
European Data Center Markets
Absorption in Europe is lumpy as a lack of supply is making users take down capacity when it's available, instead of when it's needed. A combination of elevated demand, newly announced projects, and projects nearing completion contributed to over 300 MW of absorption among FLAPD markets in 3Q 2023. In the midst of this, planned power in the FLAPD markets is the highest it has ever been, though the timelines of delivery may be longer.
Planned Power Growth in Major European Markets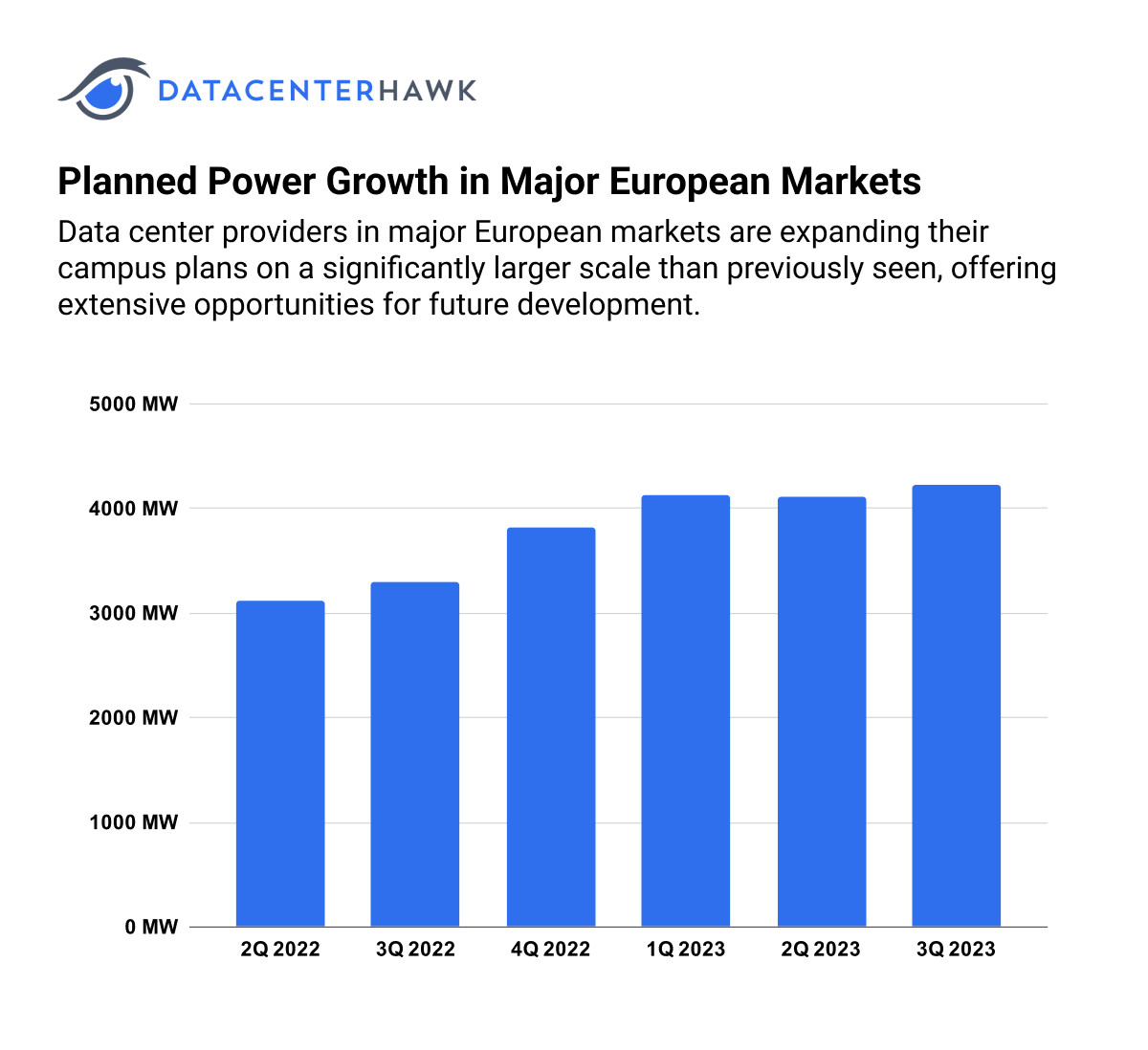 Notable Trends & Markets
Development with large-scale demolition becoming increasingly common in major markets
Demand for data center space in FLAPD markets is at an all-time high, while supply is low. Data center providers are planning campuses at a much larger scale than before, providing a lengthy runway for development into the future, though often for a single tenant. Greenfield sites that meet those criteria in FLAPD markets are hard to find, meaning providers must buy land with existing buildings that require demolition. While this isn't a new trend, the scale at which these facilities are being built is new, so providers are buying large corporate campuses that require significant redevelopment work.
Secondary and tertiary markets will be the primary option for AI deployments
AI is an emerging source of demand that has the potential to impact the data center industry in a big way. AI requirements are large in scale, needing a substantial amount of power that most major European markets lack. As a result, AI deployments will need to look to edge markets, whether that be emerging markets like Madrid, Berlin, and the Nordics or FLAPD submarkets like Manchester, Eeemshaven, or Leeds.
Looking Forward
Access to power is increasingly difficult to procure, leading to lengthy timelines for the delivery of new capacity. While quarters of high absorption are a positive indicator of the European data center industry, they also eliminate a substantial portion of the supply that can be delivered in the near future. In some markets, power won't be available until 2025 or onward. In other markets, new development requires large-scale demolition which also increases the overall development timeline.
If you're interested in delving further into our European data, don't hesitate to contact Annemarie van Zadelhoff, our Regional Director – EMEA.
Asia-Pacific Data Center Markets
Demand for data center capacity in Asia remains high, resulting in absorption in existing major markets and plans for new developments in emerging markets. Absorption in major markets has been light in 2023 due to an overall lack of supply, but new capacity and hyperscale companies interested in Singapore and Hong Kong contributed to elevated absorption in the third quarter.
Notable Trends & Markets
Limited power and equipment pipelines delaying the delivery of new capacity
Supply in major APAC markets is tight and development takes a long time. Although suppliers have large backlogs that are easing slightly, manufacturing is still largely outside of APAC, leading to delays in distribution and a lack of supply. Furthermore, many markets are experiencing constraints in power that is affecting both approved and proposed developments.
Absorption remains high in Australia while hyperscale companies continue to develop their own campuses
There's ample demand for hyperscale development in Australia, but companies are choosing to build and operate on their own. As a result, multiple land acquisitions have occurred where large campuses will be developed. Government groups are absorbing capacity, but primarily from Australian providers.
Looking Forward
Although supply is currently tight, opportunities in the near future will likely ease some restrictions on the region's pipeline. Four data center proposals were selected as part of the pilot Data Centre Call for Application ("DC-CFA") for a total of 80 MW in Singapore. However, the impact is still unclear due to development timelines and permits. Further supply will also come online in emerging markets around the rest of Asia and the greater Pacific region that will provide suitable capacity and meet demand.
If you're interested in delving further into our Asia Pacific data, don't hesitate to contact Damon Lim, our Regional Director – Asia Pacific.