4Q 2021 Data Center Market Recap
4Q 2021 Data Center Market Recap
---
By

David Liggitt

·

2/3/2022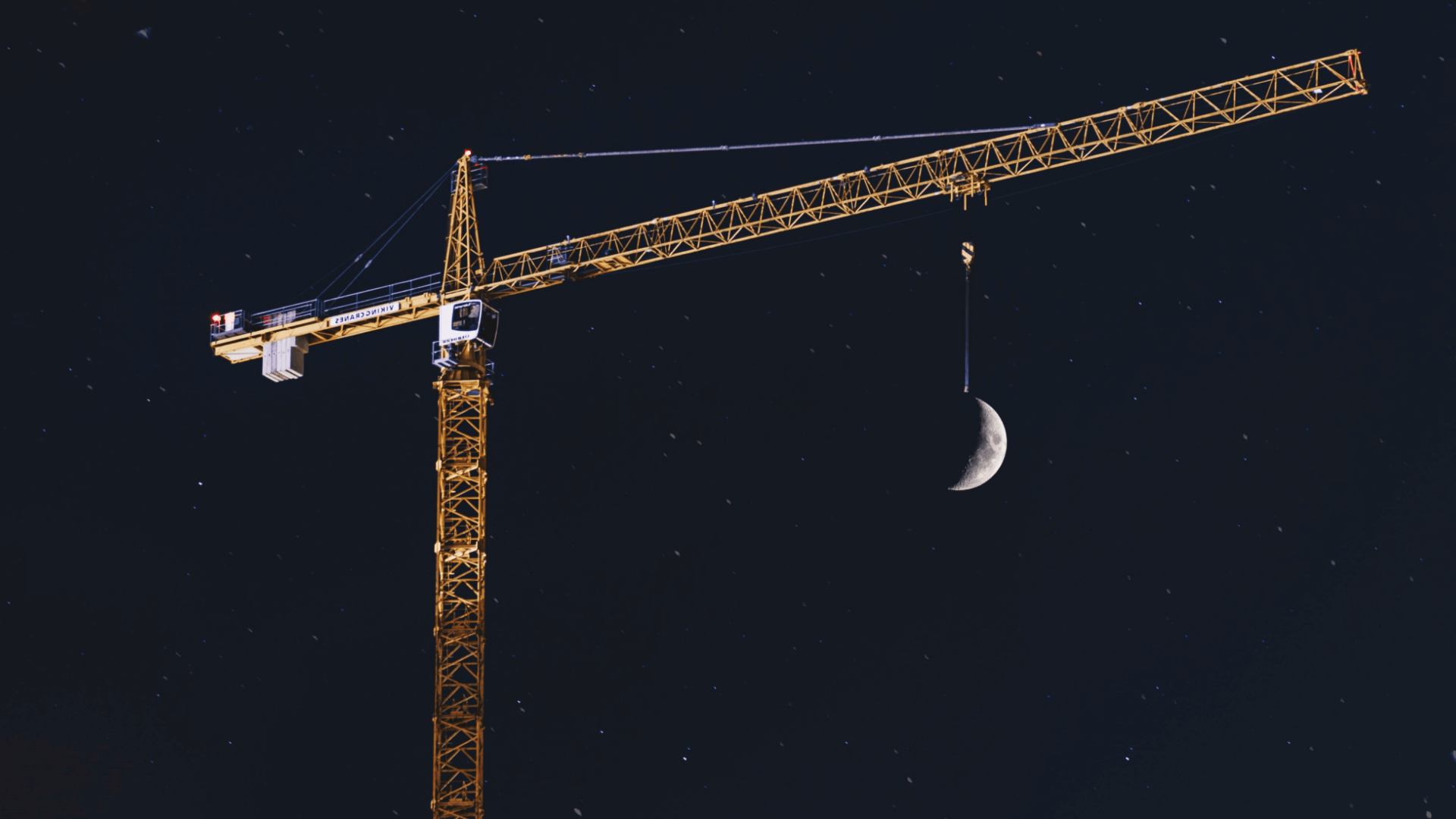 ---
Over the past few weeks our team analyzed more than 10,000 real estate data points on data centers across the globe and released that analysis in Hawk Insight, datacenterHawk's market research product. We've compiled a summary of our analysis from that release in this recap.
If you have data center related decisions coming up in the next 3-6 months, watch this :90 overview to see how the datacenterHawk platform can help bring clarity to your understanding of data center markets and help you move forward with more confidence.
---
The data center industry continues to experience increased demand, which led to record levels of absorption in 2021. While hyperscale user requirements were the primary force behind the year's growth, we also witnessed increased activity from enterprise users. The uptick in requirements ranging from 500 kW-5 MW contributed strongly to growth across the globe
Multiple large M&A transactions demonstrated the interest investors have in the industry, as shown by KKR/GIP's $15 billion acquisition of CyrusOne and American Tower's $10 billion acquisition of CoreSite.
North American Data Center Markets
North America closed 2021 with some of the most widespread demand seen in recent years. Northern Virginia is traditionally the powerhouse in the region, accounting for the vast majority of North America's absorption. While that remained true in 2021, the year ended with record-breaking absorption in Chicago, Dallas, Phoenix, and Portland.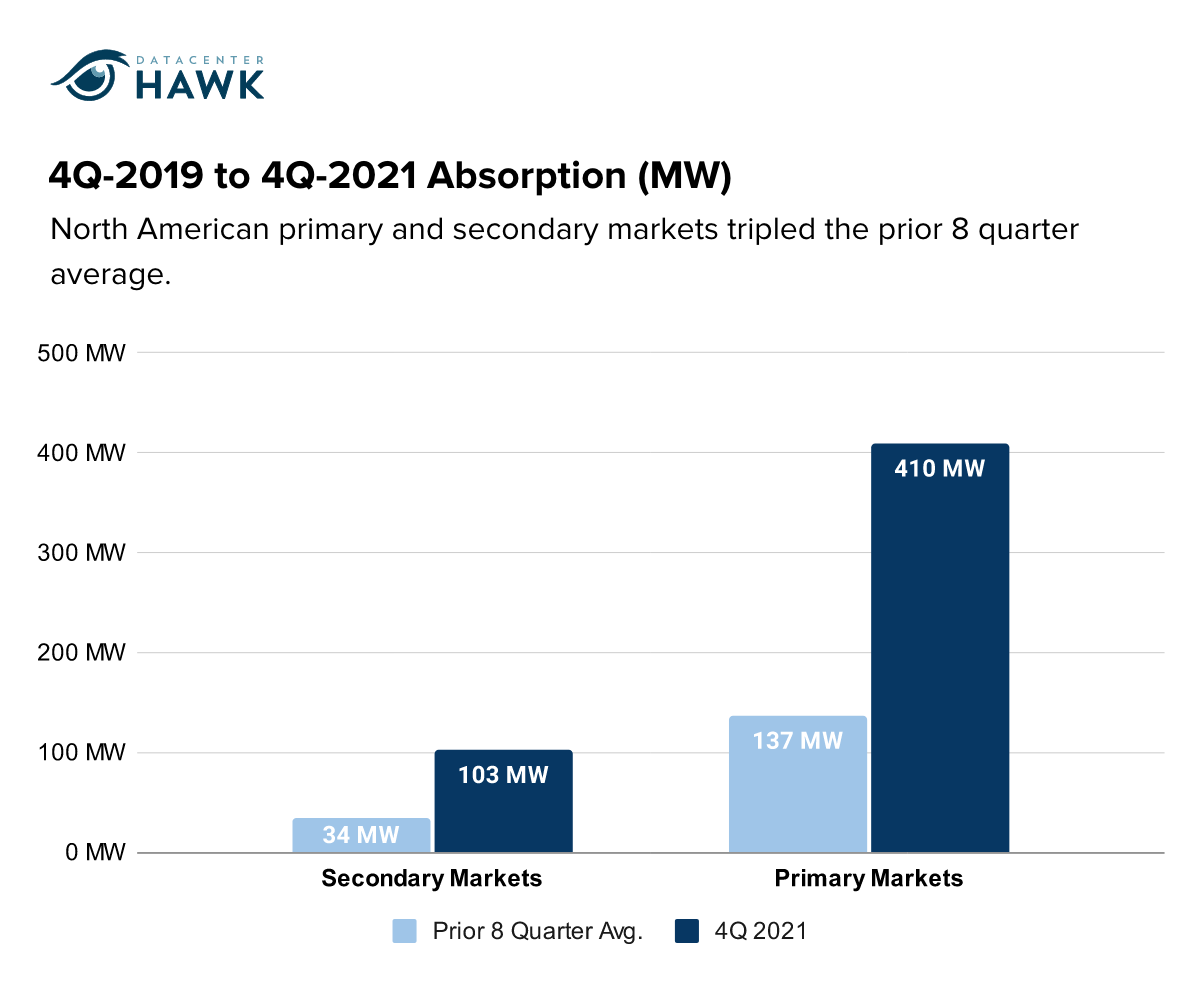 Notable Trends & Markets
Commissioned power growth spurred by increased absorption
The top North American markets recorded 510 MW of absorption in 4Q 2021. This contributed to 488 MW of commissioned power growth from a supply perspective as well, compared to the average growth of 130 MW per quarter. While pre-leasing continues to be a large part of the story, demand for enterprise users is growing as well and is focused on vacant, second-generation space.
Limited supply in major markets
Elevated absorption is leading to some of the low vacancy rates. Of the 23 North American primary and secondary markets, 14 are under 10%. Additionally, 10 markets are at their lowest vacancy in the last two years.
Investment trends
New capital continues to enter the industry, as investment firms are looking to acquire data center portfolios or purchase individual assets. This includes major transactions like the purchase of CyrusOne or Coresite, as well as individual asset acquisitions like IPI's purchase of the 1500 Champa carrier hotel in Denver.
Looking Forward
As the growth in 2H 2021 took place, supply availability changed in both primary and secondary markets. We anticipate continued demand from the enterprise sector, as applications like video streaming/conferencing, gaming, remote work, and e-commerce shopping gain traction among consumers. Hyperscale requirements will continue to grow in both size and volume, and many of these will grow secondary North American markets to new levels in 2022. Site acquisition and meeting power procurement timelines by data center operators will also grow in focus and importance over the next year.
European Data Center Markets
Europe experienced a healthy 2021, ending the year with over 120 MW of commissioned power growth in 4Q. While demand remained strong in the FLAP-D markets, secondary European markets took a greater portion of the absorption than in the past year. In the second half of 2021, the secondary markets accounted for 22% of total European absorption, compared to the 14% in the first half of the year.
European Absorption 1H to 2H 2021 (MW)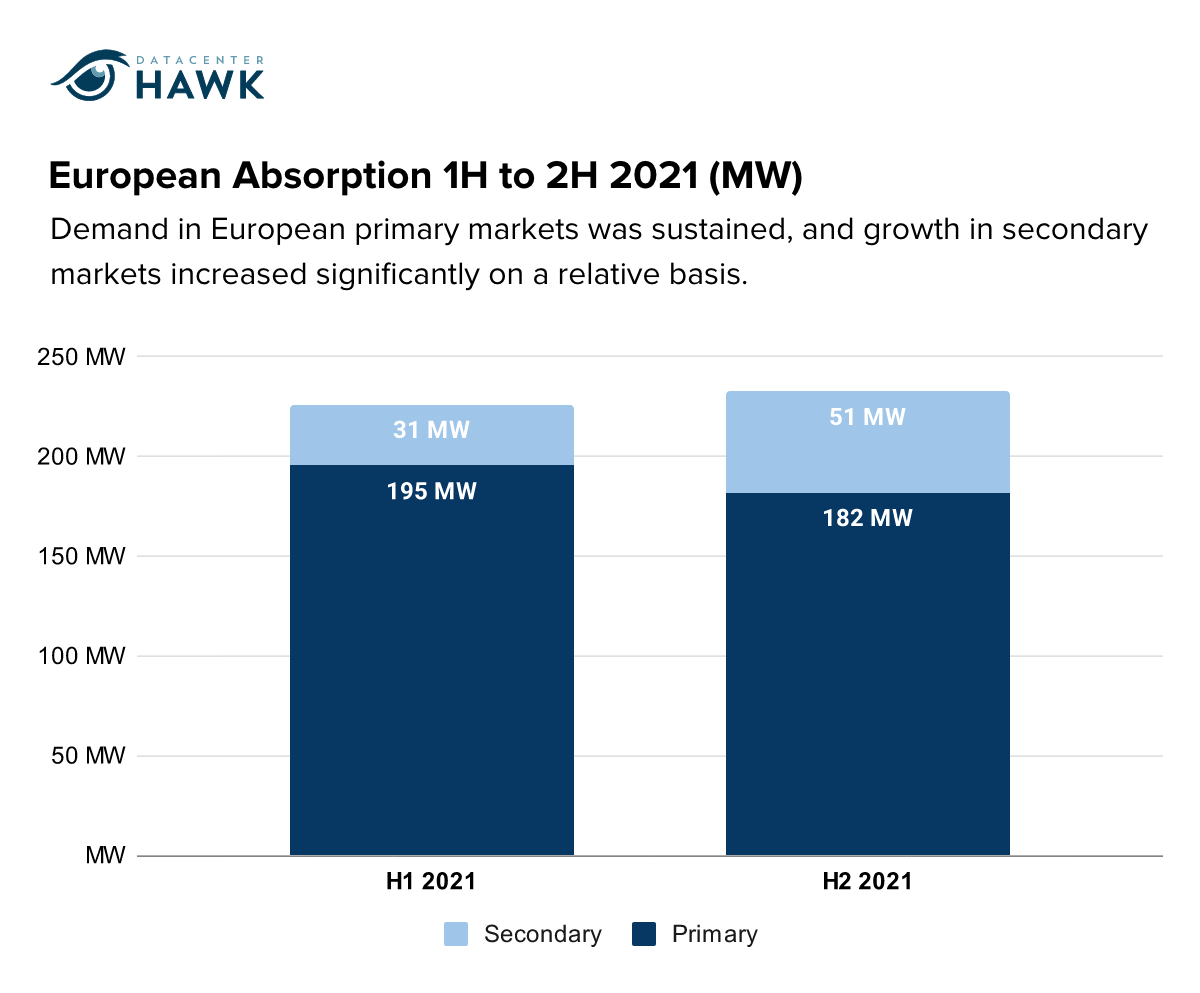 Notable Trends & Markets
Development taking path of least resistance
The European markets with the fewest restrictions were the ones that saw the most commissioned power growth. Markets like London, Berlin, and Milan, among others, had healthy growth, while markets with strict regulations, development moratoriums, or sustainability requirements grew at a slower rate.
Power supply concerns
Many European markets are working through their strategy for handling the immense power requirements needed by data centers in a responsible manner. While some countries have launched initiatives to regulate the development process, others have continued moratoriums on new data center projects to limit increased power usage.
Investment trends
Several investment firms have acquired European providers and combined their assets with North American providers to develop a global footprint and a strong customer base. Also, multiple European data center operators are acquiring land sites and working through the power procurement process to establish a pathway to future growth. Colt Data Centers recently announced the acquisition of over ten sites across markets like London, Frankfurt, and Paris, while companies like Yondr are placing their most recent bet in Slough, a suburb of London that is rich with data center interest from both hyperscale and enterprise users.
Looking Forward
Europe data center market growth is on the radar of all data center providers seeking a global footprint. As opportunities exist to assist hyperscale users seeking to mature their data center footprint and establish new availability zones across the region, we expect M&A activity to increase. Even with some of the supply challenges in the larger European markets, we believe strong levels of demand will grow these markets to new levels in 2022.
Asia Pacific Data Center Markets
With the massive population, dense and sporadic hi-tech economies, and rapidly rising number of internet users, data center markets in the APAC region are working through how to grow at a level that can meet the demand and also regulatory requirements. Singapore recently announced an end to the data center development moratorium that will most likely lead to increased development opportunities, and areas like Hong Kong and Sydney are gaining additional user interest as well.
Notable Trends & Markets
Hong Kong growing despite high costs
Real estate development in Hong Kong is expensive, though data centers continue to come online. Hong Kong grew by 6 MW of commissioned power in 4Q 2021, along with multiple powered shells completed or currently under construction.
Speculative Development in APAC Markets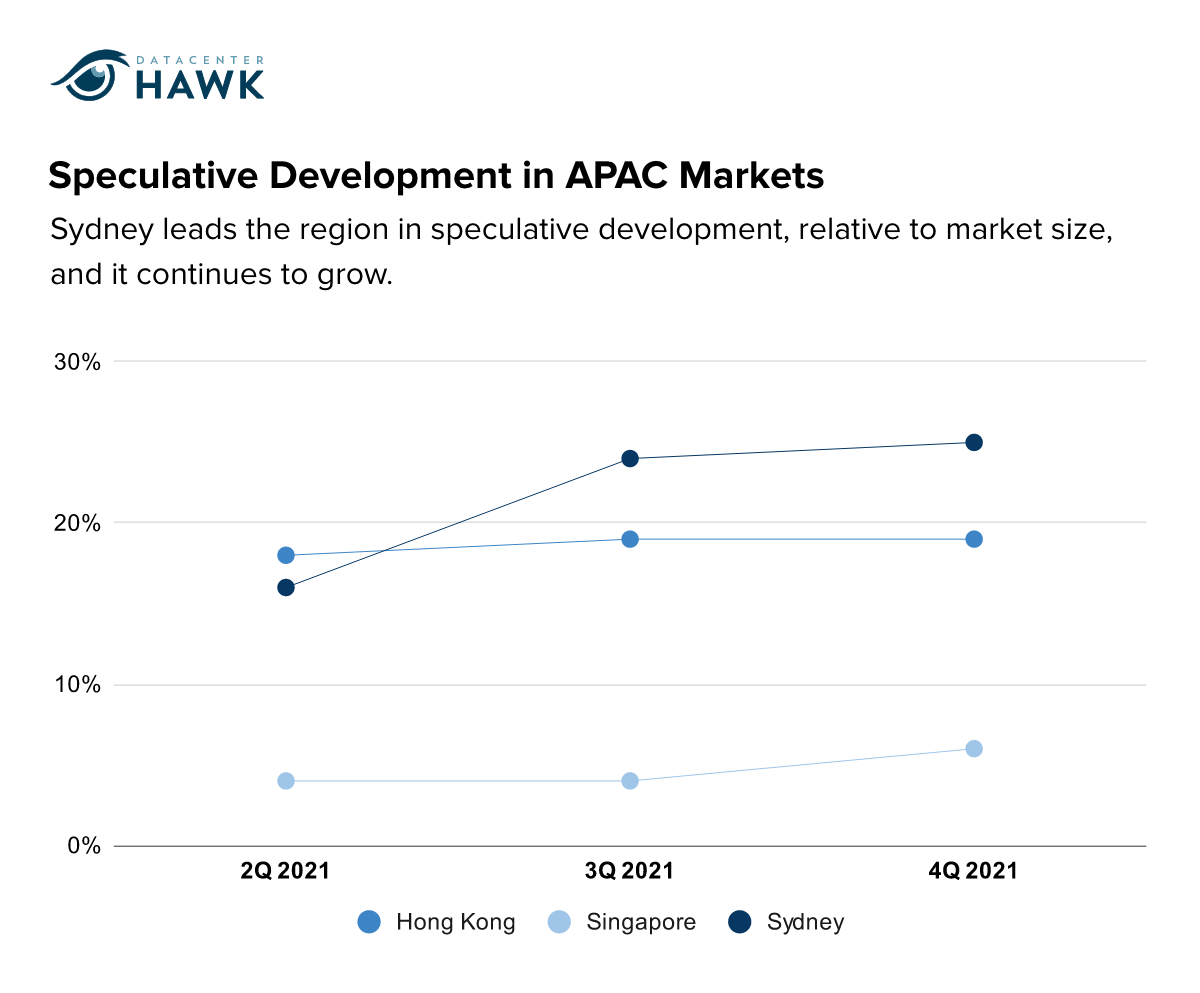 Government support of data centers bolstering new wave of development

Sydney is one of APAC's fastest growing markets, with a 25% increase in commissioned power between 1Q 2020 and 4Q 2021. The Australian government recently took steps to adjust policies to be more data center friendly, deeming these facilities as "state significant developments."
Multiple markets emerging around APAC
While Hong Kong, Singapore, and Sydney are some of the largest APAC markets, there is a boom of development activity across the region. India and Southeast Asia in particular are attracting substantial attention from data center providers and hyperscale cloud companies.
Looking forward
Large-scale data center development will only increase in APAC as hyperscale companies continue to evaluate the opportunity in the region. In response, it's likely there will be a new wave of development and investment activity as providers look to position themselves to capture future demand.
Wrap Up and Overall Outlook
Over 660 MW of total absorption across the 39 Insight markets in North America, Europe, and Asia. Demand requirements are increasing in both size and number, and we anticipate this momentum will continue to hold in 2022.
The rapid absorption of capacity, pre-leasing of capacity, and supply chain issues may limit the amount of new power that will be available. To keep up, providers are planning larger and further into the future. The influx of capital will help introduce new competition and much-needed capacity to the global data center market.
Navigating decisions in the data center market? It's important to have a clear understanding of the changing market dynamics. Connect with our team to see how datacenterHawk can help you make data center decisions with confidence.