1Q 2022 Data Center Market Recap
---
By

David Liggitt

·

5/5/2022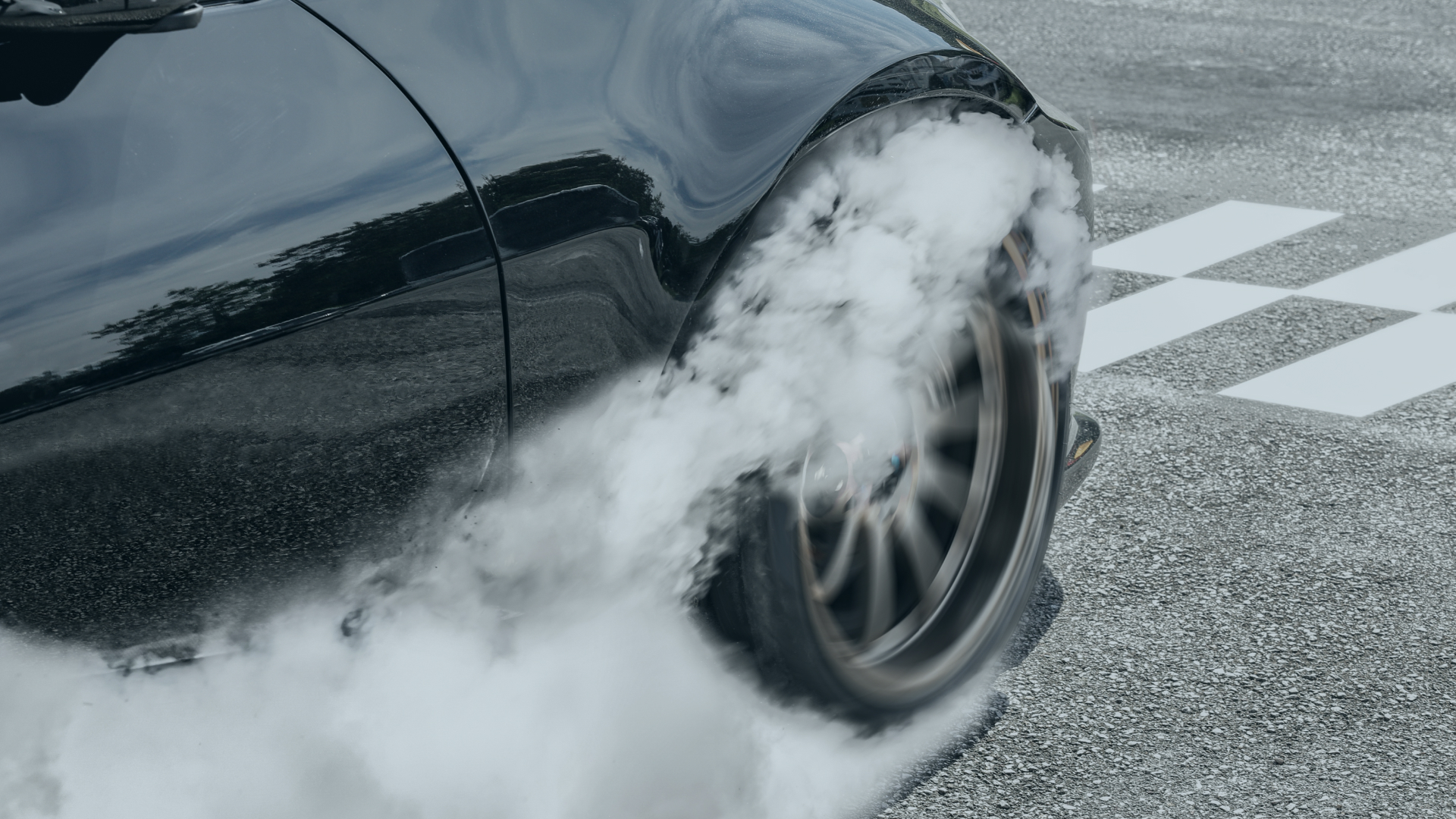 ---
Over the past few weeks our team analyzed more than 10,000 real estate data points on data centers across the globe and released that analysis in Hawk Insight, datacenterHawk's market research product. We've compiled a summary of our analysis from that release in this recap.
If you have data center related decisions coming up in the next 3-6 months, watch this :90 overview to see how the datacenterHawk platform can help bring clarity to your understanding of data center markets and help you move forward with more confidence.
---
The data center industry is off to a strong start in 2022 after significant growth in multiple markets around the world. Due to a perceived potential for data center capacity shortages in the future, user strategy is shifting to longer term planning. As a result, demand is increasing and data center markets around the world are experiencing low vacancy rates.
Investment in the sector is increasing as well, particularly in international markets. Multiple providers in North America, EMEA, and APAC have also completed successful capital raises for future data center development and acquisition opportunities.
North American Data Center Markets
North America started the year with significant growth. Supply in the top 10 North American markets combined to grow over 765 MW, representing a 13.5% increase over 4Q 2021 and a 34% increase YoY. Seven of the top ten markets grew over 10%, with Atlanta and Portland growing by 40% and 84% respectively.
1Q 2022 absorption in the North America markets combined to almost match the 2021 total year absorption. This represents the continual demand from both hyperscale and enterprise users looking to grow and mature their IT infrastructure footprints in major and secondary markets.
Commissioned Power in the Top 10 North American Markets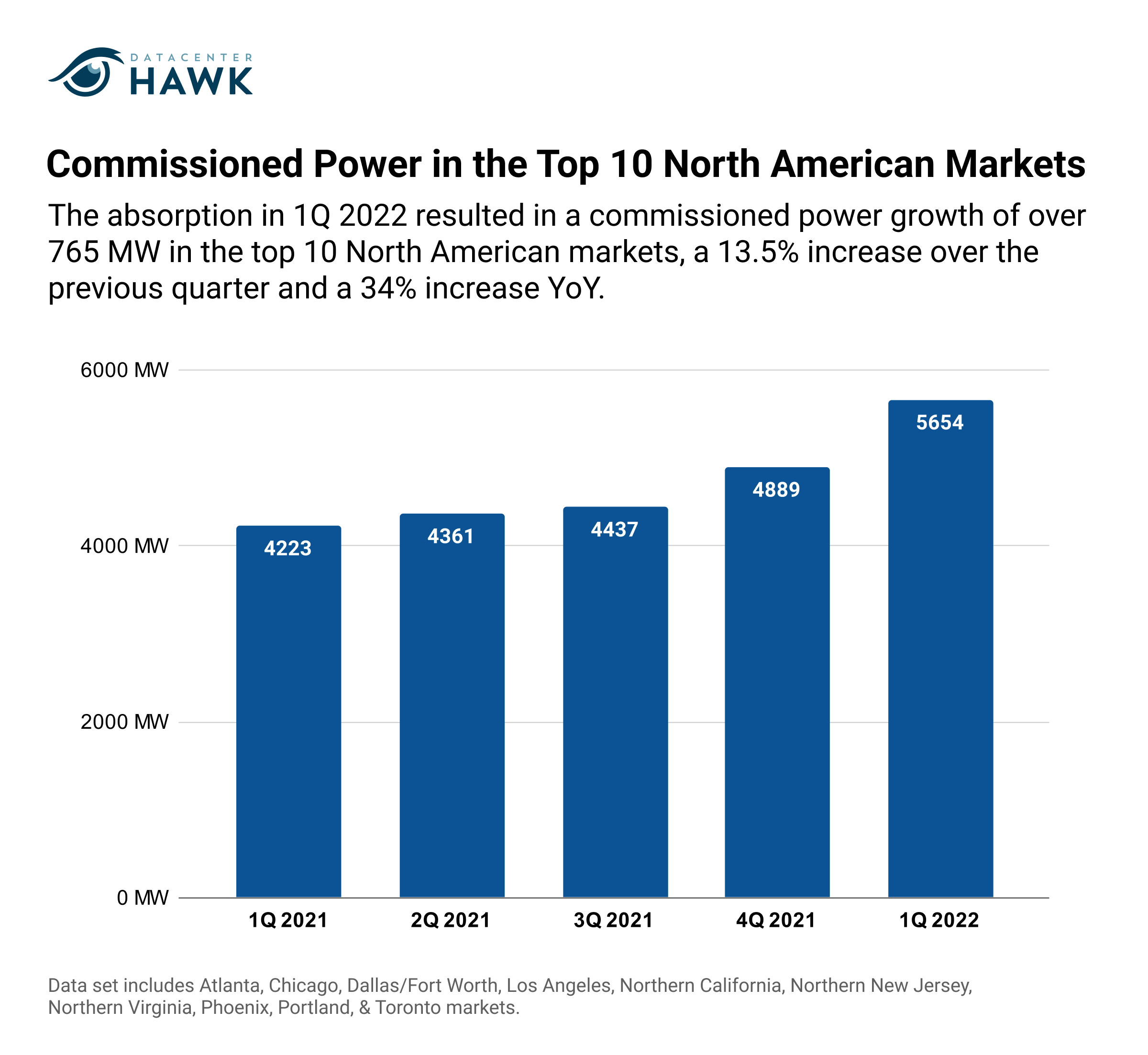 Notable Trends & Markets
Demand pushes to both primary and secondary markets
Large-scale demand has historically been centralized in several markets. While the largest volumes of absorption did occur only in a handful of markets, the increasing demand in other areas represents the broad growth. For example, Northern Virginia accounted for nearly 50% of all absorption among major North American markets in 4Q'21. In 1Q 2022, Northern Virginia accounted for 25% of all absorption among major North American markets, even though the demand in the market was high. Nearly every major market experienced absorption higher than its historic average over the last time period.
Limited supply increases as pre-leasing dominates
Unleased speculative data center capacity is more challenging to find in 2022 as pre-leasing continues to occur. It's not uncommon for larger requirements to take an entire existing and future footprint on a data center campus today. This, in addition to the rate at which utility companies can deliver new power infrastructure, component shortages, and a lack of suitable land in some markets, creates supply challenges moving forward. For example, 13 major North American markets have a vacancy under 10%, with eight under 5.5%.
Looking Forward
Year over year average vacancy rates among major North American markets dropped from over 11% to 8.3% in 1Q 2022. Several over supplied markets are now experiencing the opposite situation. This flip in supply and demand illustrates the change in market dynamics that are impacting pre-leasing, pricing and agreed to terms.
Several large-scale requirements continue to evaluate the market, so we anticipate 2022 will be North America's highest demand year to date. Areas like Austin, Columbus, Denver, Salt Lake City, San Antonio, and Toronto to continue to grow as well in the foreseeable future.
European Data Center Markets
The FLAP-D markets added 156 MW of new commissioned power in 1Q 2022, bringing the region's total to 2,761 MW of commissioned power. This represents a 5.7% increase over 4Q 2021 and a 20% increase YoY.
European data center demand remains high as well, focused on landing in FLAP-D markets able to accommodate the requirements and secondary markets that provide a faster path to delivery. The European region continues to balance the desired need for data center infrastructure, while also delivering the capacity in both a responsible and long-term manner.
Commissioned Power in the Top 5 European Markets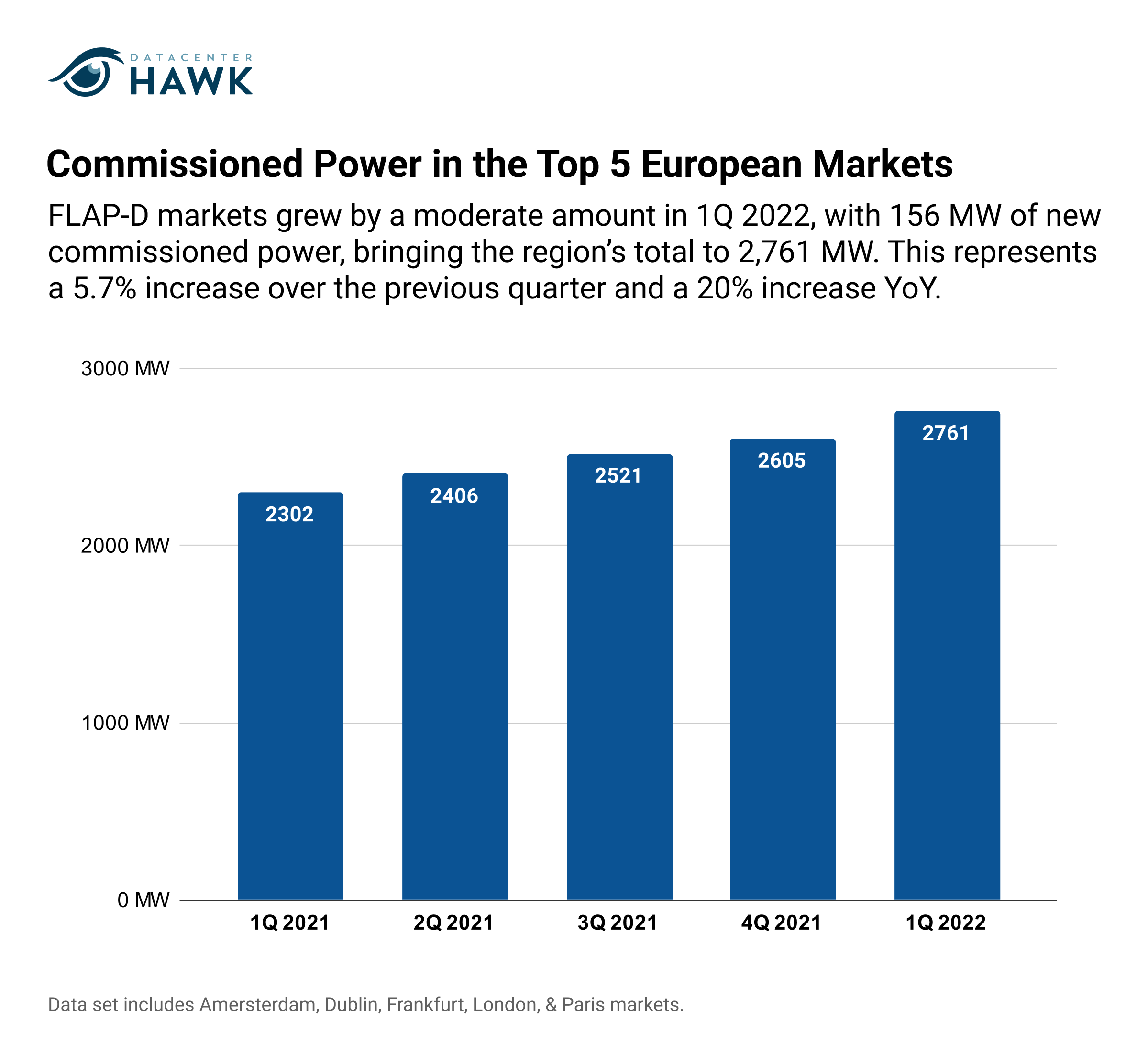 Notable Trends & Markets
Power rate spikes across Europe causing concerns with operating costs
Europe is experiencing continual increases in electricity rates, spurred by low inventory from limited gas generation and geopolitical conflicts. March saw a severe spike in residential energy prices, with some countries charging €.30-50 per kWh. While data center power rates are lower, the spikes have a substantial impact, often adding unforeseen costs to operating budgets.
Regional governments applying brakes to data center development
The future of data center development is being evaluated in some European markets after certain governments called for pauses on projects. Irish grid operator, EirGrid, has halted its approval of all data center projects through 2028 due to the strain on the country's power infrastructure. As the Netherlands is in an election cycle, data centers have been pushed into several candidates' platforms, leading to a nine-month moratorium on large-scale development. Frankfurt also established specific development zones for data centers, limiting growth to those areas.
Looking Forward
Major supply in major European markets is increasingly challenging to deliver. With the future supply already limited, large data center users are executing pre-leases on that supply to ensure they have room for growth over the next 3-5 years. With new regulations put in place in some major markets, secondary and emerging markets have new opportunities to capture the demand that might have focsued in the major markets. The Nordic markets in particular are considered a strong candidate as an alternative to the FLAP-D markets for larger users due to power sources and timelines.
Asia-Pacific Data Center Markets
Asia-Pacific (APAC) is one of the fastest-growing regions for the data center industry right now, with large, well-established markets and others emerging throughout the region. Demand was healthy, with a mix of retail, wholesale, and pre-leased larger demand capacity. The top APAC markets grew by 150 MW of commissioned power YoY, representing a 10% increase. Of the 150 MW of new commissioned power, nearly 2/3 occurred between 4Q'21 and 1Q'22
Commissioned Power in the Major Asia Pacific Markets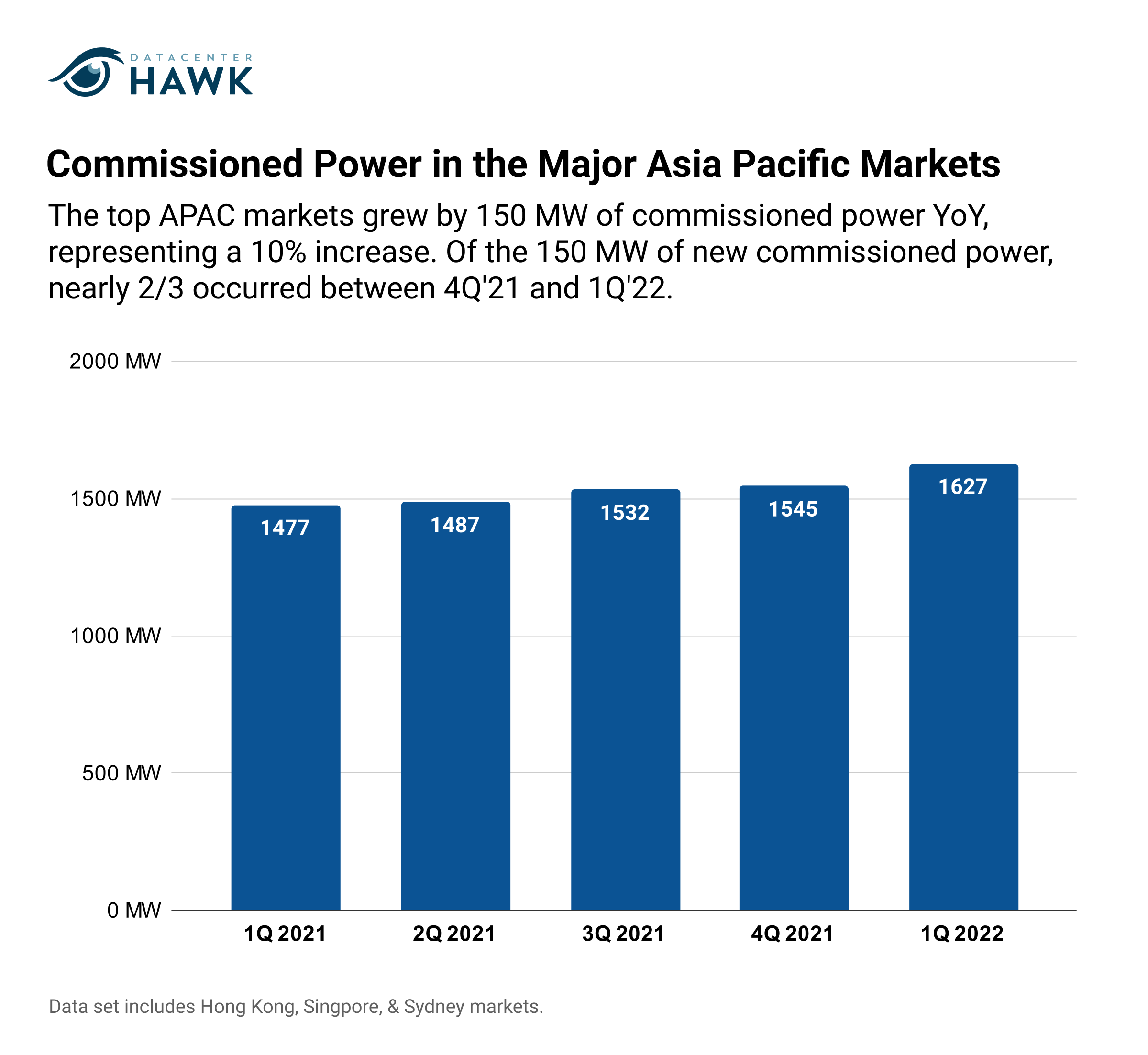 Notable Trends & Markets
Limited development in major APAC hubs
The two primary APAC data center hubs are Hong Kong and Singapore, though both markets have limited potential in the future. For costs and geopolitical reasons related to privacy, companies are shying away from further development in Hong Kong, opting for a presence in Singapore and other APAC markets instead. Singapore, however, is limiting its future data center development due to the industry's power consumption. Having recently lifted a moratorium on development, any new development moving forward must meet strict sustainability requirements and source most of its power from renewables.
Looking Forward
With stalled development taking place in Singapore and Hong Kong, opportunities are being created for surrounding geographies. As a result, markets like Osaka, Seoul, Jakarta, Kuala Lumpur, and Melbourne are attracting increased activity and attention. Multiple international data center providers have an existing presence or plans for new development in these markets.
Wrap Up and Overall Outlook
Demand for data center space is at an all-time high. While record-setting growth is impressive, the large-scale growth and development brings challenges. This impacts construction materials, land availability, electrical infrastructure, and sustainability. Both data center providers and government entities are working through these issues to ensure that this growth can continue in both a responsible and sustainable manner.
---