4Q20 North American & European Data Center Market Analysis
---
By

David Liggitt

·

1/21/2021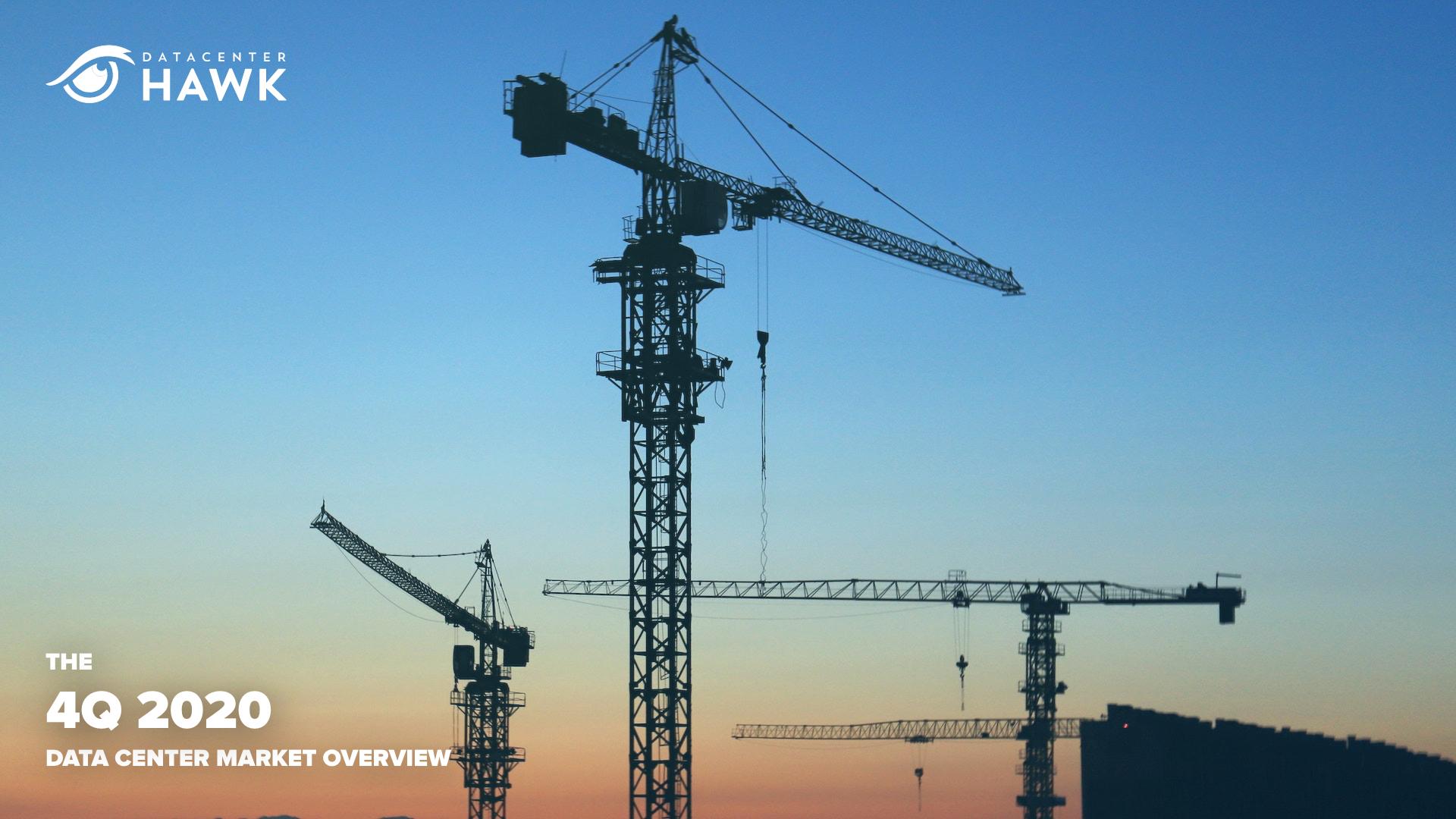 ---
This executive summary is based on the latest release of Hawk Insight, datacenterHawk's market research product for data center professionals. With Hawk Insight, you can get the most up to date data points on data center construction, leasing, and pricing across 30+ markets.
Request access to Hawk Insight today to guide your largest data center decisions tomorrow.
---
North American Markets
The North American data center market was marked by the increase in demand and resiliency of data center facilties amidst the global pandemic.
As companies shifted employees to remote work, many accelerated their long-term plans for digital transformation to keep their businesses moving.
This drove the value and visibility of the data center asset class, as these companies relied more on their IT infrastructure, which increased demand across both the US and Europe.
You can log in to Hawk Insight to view additional data points. If you're not already a subscriber, you can request access here and we will connect with you.
North American Markets in 4Q 2020
The total market size across major and secondary North American data center markets grew at a rate of 4.4% during 4Q 2020.
The growth reflects both new supply added and pre-leasing in markets attracting hyperscale and enterprise requirements.
Commissioned Power of Top 18 North American Markets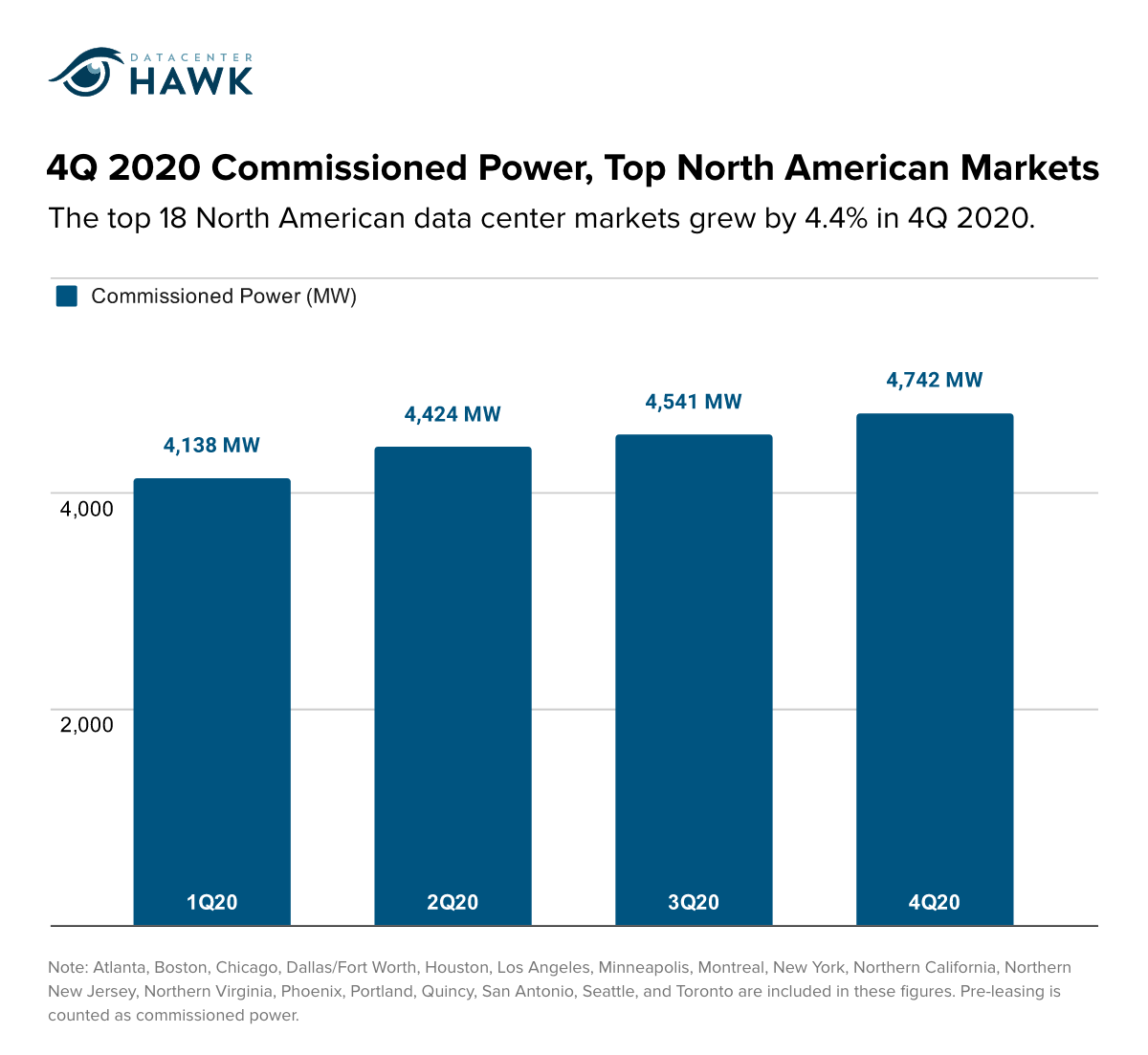 Market Highlights

Chicago demand increased significantly in 2020, coming in at 4.6x the 2019 market demand and marks the first significant uptick in demand in this market since 2016.

Comparing Historical Absorption in Chicago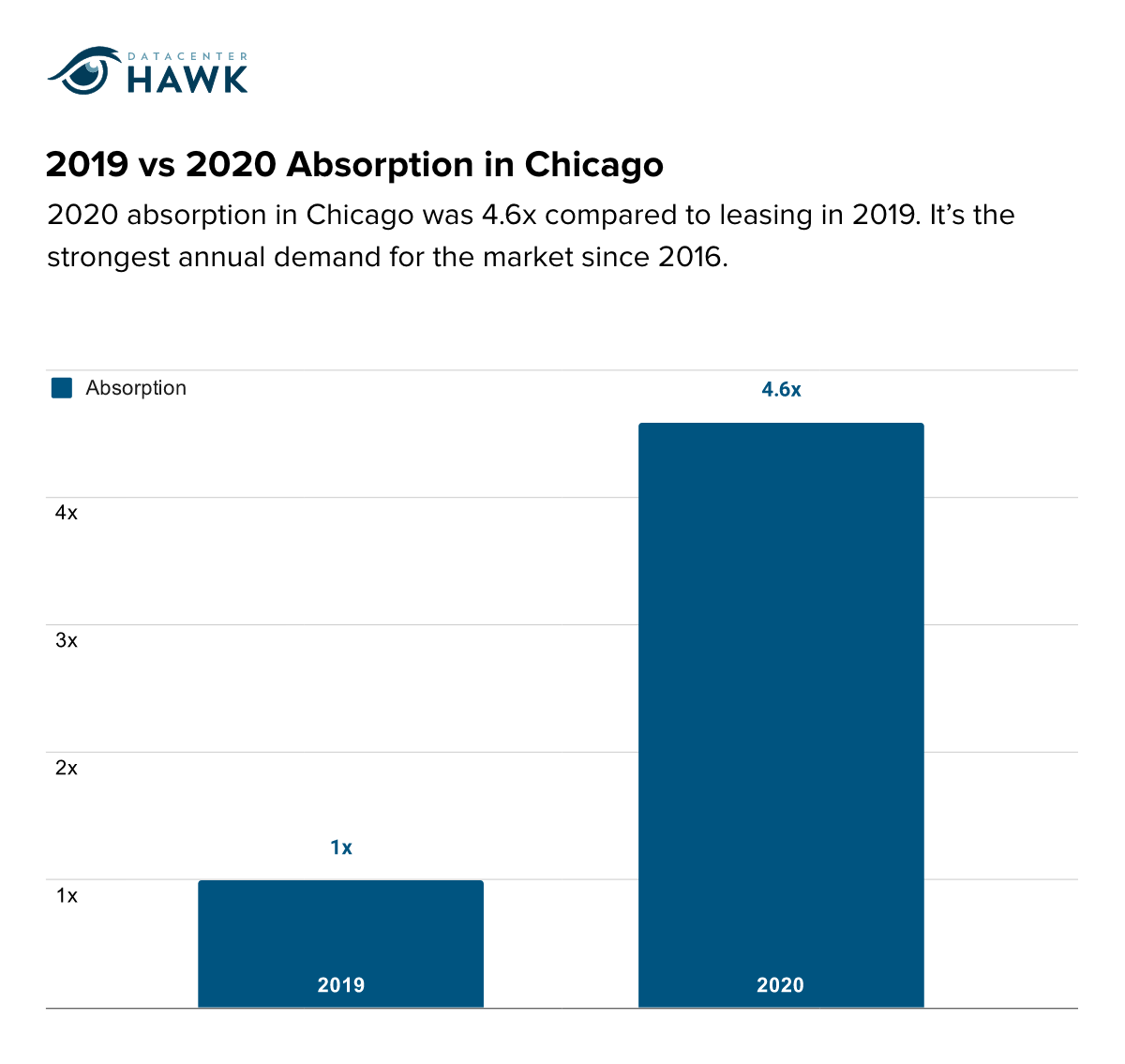 Changes in tax incentive opportunities for large users and continued investment by data center providers appears to be paying off for the Windy City.
Northern Virginia set 2020 absorption records as an individual market again because of the surge from hyperscale users, the competitive colocation market, and mature power and fiber infrastructure. The market also enjoys the support of the local and regional government.
New Market Spotlight: Columbus
We've recently added five new North American markets to the Hawk Insight platform: Columbus, Denver, Las Vegas, Salt Lake City, and Vancouver.
One that's interesting to watch is Columbus. While Columbus has an emerging colocation sector, the bulk of the market's development has centered around hyperscale cloud providers who own and operate their own facilities.
You can log in to Hawk Insight to view additional data on Chicago, Northern Virginia, or Columbus. If you're not already a subscriber, you can request access here and we will connect with you.
European Data Center Markets
Major market growth in Europe held steady in 4Q 2020. Maturity with the hyperscale sector is driving demand with data center operators. In addition, these hyperscale users are building their own facilities in locations that fit their portfolio.
Aggregate Commissioned Power of Top 5 European Markets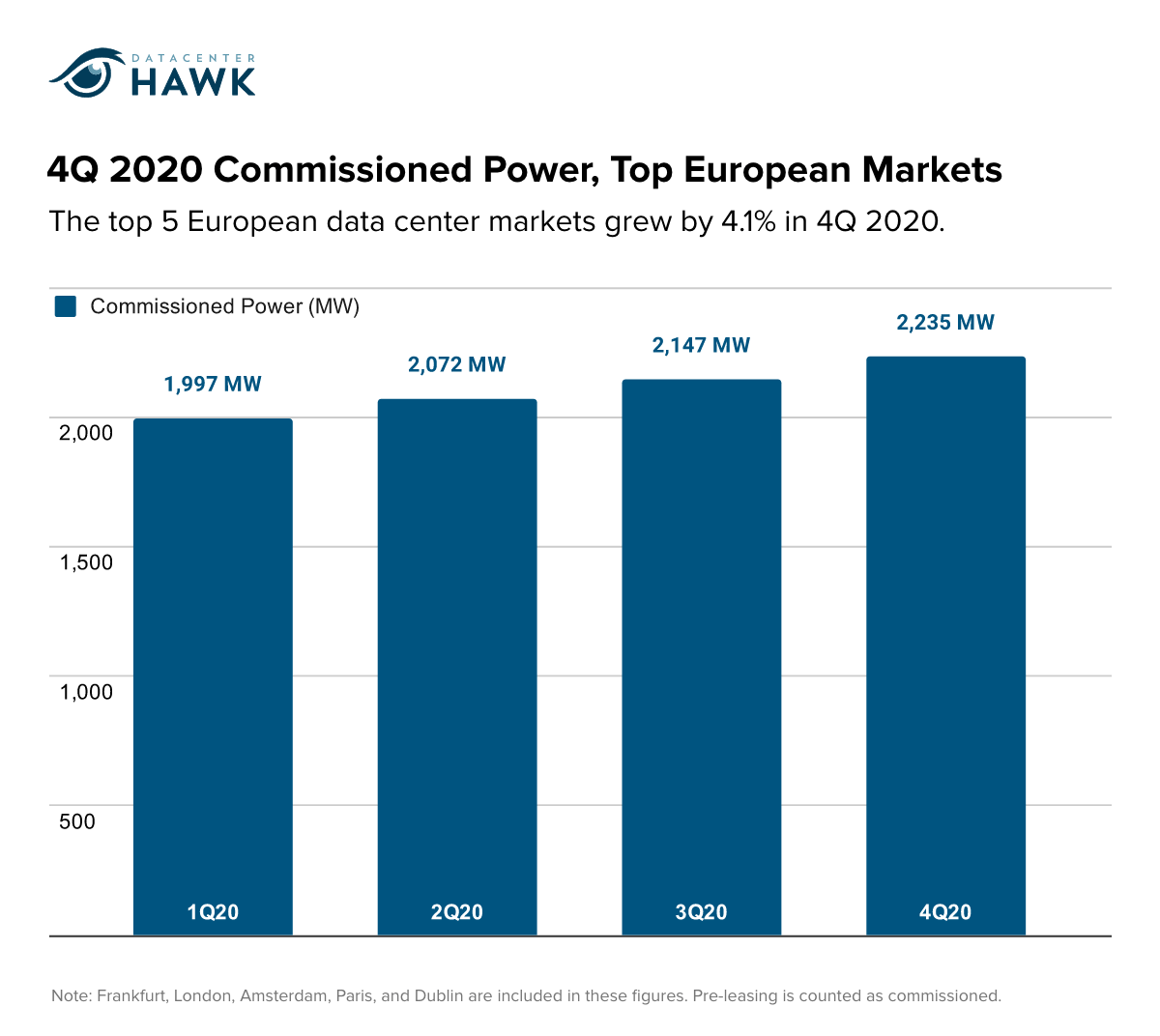 Planned power increases by 350+ MW in major European markets
Across the top five European data center markets, data center operators added more than 350 MW of planned projects to their future development pipelines. The increase points to continued optimism and demand signals in Europe.
Change in Planned Power in Major European Markets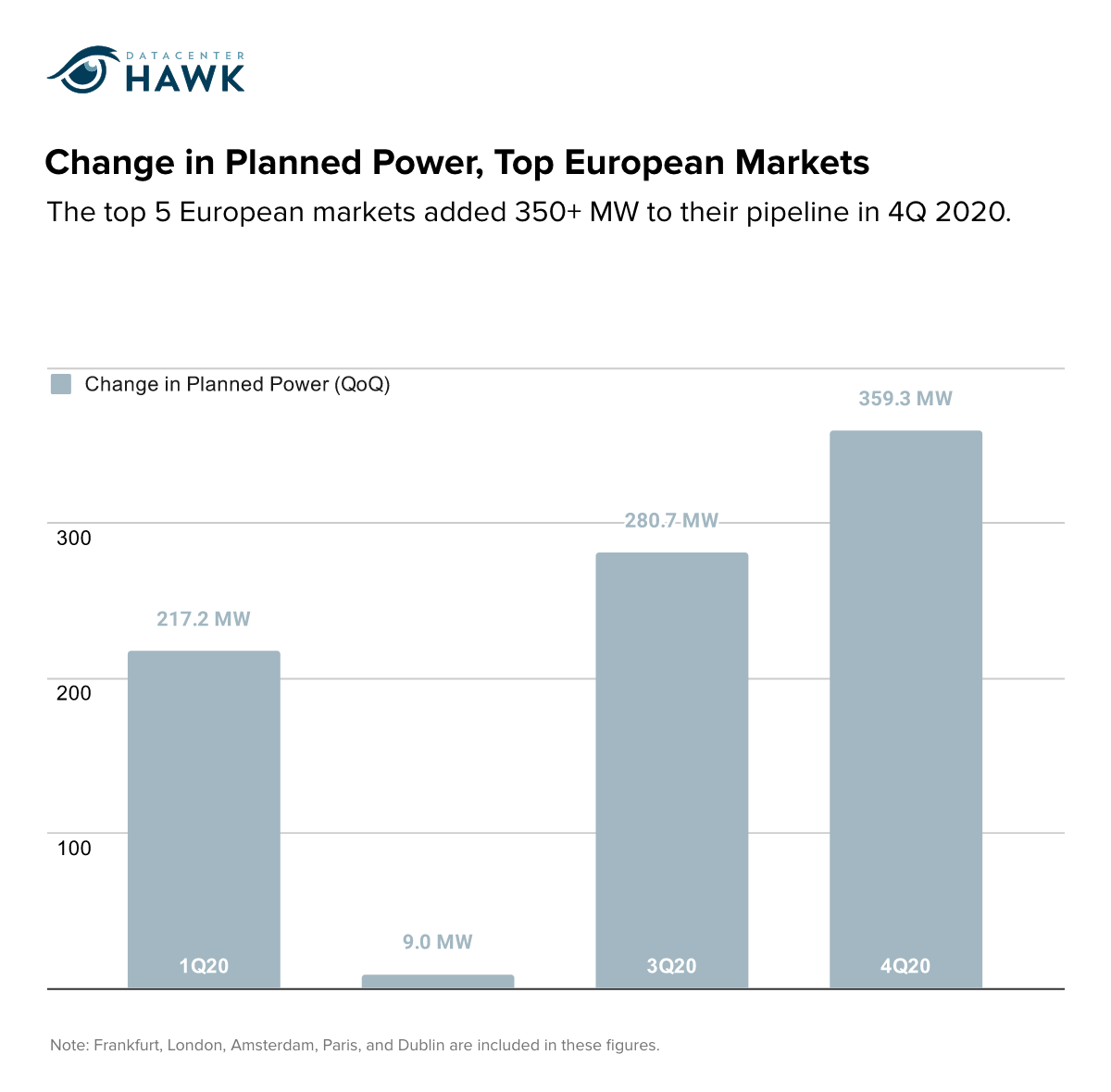 New Market Spotlight: Zurich
We've recently added eight new European markets to the Hawk Insight platform: Berlin, Copenhagen, Helsinki, Madrid, Milan, Oslo, Stockholm, and Zurich.
One we're particularly interested in watching develop is Zurich.
Attractive as a finance and business center, Zurich has historically appealed to data center users seeking sustainable energy at costs that are competitive with the Nordic markets. Additionally, the market enjoys a variety of situational benefits, including strong geopolitical stability, a favorable regulatory environment, high bandwidth, and a very central location.
Vantage, Interxion, and Green Datacenters AG all have recently announced data center projects underway in the market.
You can log in to Hawk Insight to view additional data on London, Zurich or any of our other 10+ European data center markets. If you're not already a subscriber, you can request access here and we will connect with you.
2020 Data Center Market Trends
Looking back on 2020, a few key trends stood out across the year.
Pandemic forces digital transformation and leads to increased data center demand
Many companies were forced to deal with their outdated IT infrastructure plans because of the digital transformation forced by the pandemic.
New tech and remote working driving need for edge deployments
Web traffic and data processing drastically rose due to the pandemic. New technologies, like 5G, augmented reality, autonomous vehicles, etc, are becoming more common and increasing data center needs. Edge storage and computing are designed to mitigate the strain put on networks and data centers when these new technologies are deployed.
Digital transformation from federal entities created opportunity for data center and cloud providers
The increasing needs of the federal government are driving opportunities to data center operators. In turn, a number of data center operators have increased their federal certifications in hopes of winning these requirements
2021 Data Center Market Predictions
Looking forward to 2021, pay attention to the following.
All eyes on hyperscale
We believe hyperscale demand contributed to over 70% of the absorption in 2020, and think this trend will continue in 2021. Watching the growth from these companies will be the key to see if 2021 can keep up with the pace established in 2020.
The return of the powered shell
The powered shell development approach is becoming more favorable, as data center operators look for ways to meet end user demand, conserve capital and increase timelines of large data center requirements.
The enterprise demand - when will it return?
The pandemic impacted the enterprise sector in 2020, as companies turned inward to ensure they could keep their internal teams online. 2021 growth in this sector will have a big impact as these companies typically are in need of infrastructure, managed and cloud services as well.

Leveraging Data To Help You in 2021
If you're making decisions about data centers in North America, Europe, or APAC and would like additional data to guide your strategy, reach out to us and we can help you get where you're wanting to go.
---