A look into Portland's 2020 growth
---
By

Stephen Schlenker

·

11/17/2020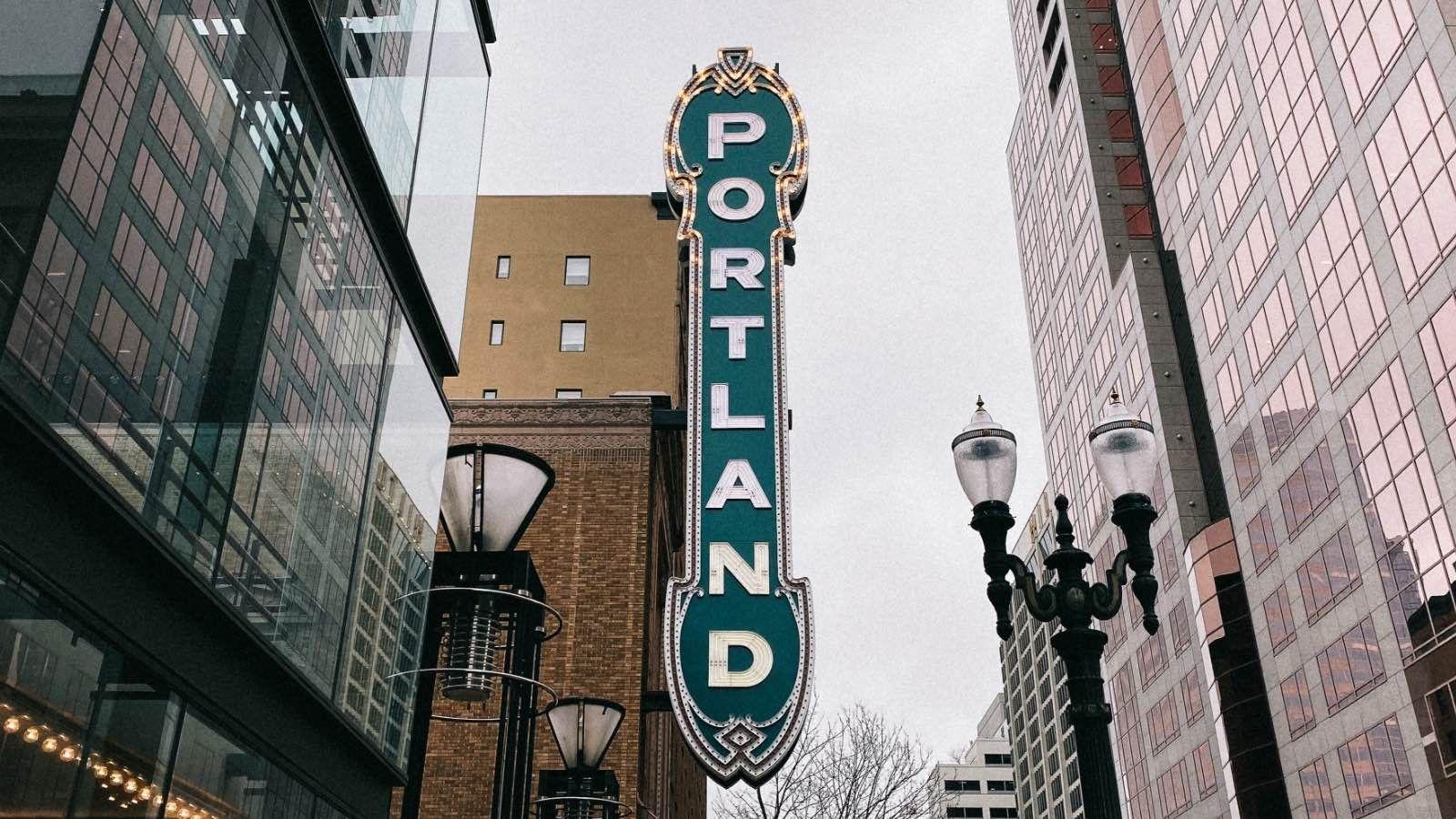 The Portland data center market has drawn the attention of both data center users and providers over the last several years.
Large users find this market attractive because of its West Coast location, access to clean energy, favorable tax incentives and proximity to subsea cables. Over the past few months, data center providers are actively beginning construction projects aimed at meeting the upcoming future demand.
Portland's disproportionate growth
Most of the significant growth in the Portland market over the last few years was located in Hillsboro, approximately 20 miles to the West of the downtown area.
The increase in market size is from data center operators that had purchased land to satisfy hyperscale data center users needs at an affordable option.
From 3Q 2018 to 3Q 2020, Portland's data center market size has more than doubled from 43.16 MW to 87.66 MW. At the same time, the planned power category increased from 173.4 MW to 307.6 MW.
This growth puts Portland at a rate closer to markets that are much larger in scale like Chicago, Atlanta, and Toronto.
Portland's growth feels even stronger when you consider how it compares in market size to Chicago.
In 3Q 2018, the Chicago data center market was more than 5x larger than Portland, which you can see in the graph below. Even with comparison, Portland brought in more growth in raw MW than Chicago over the two year period following 3Q 2018.
Similar sized secondary markets in 2018, including Seattle, San Antonio, and New York, have also grown but less than Portland.
Portland vs Secondary Markets - Growth (3Q19-3Q20)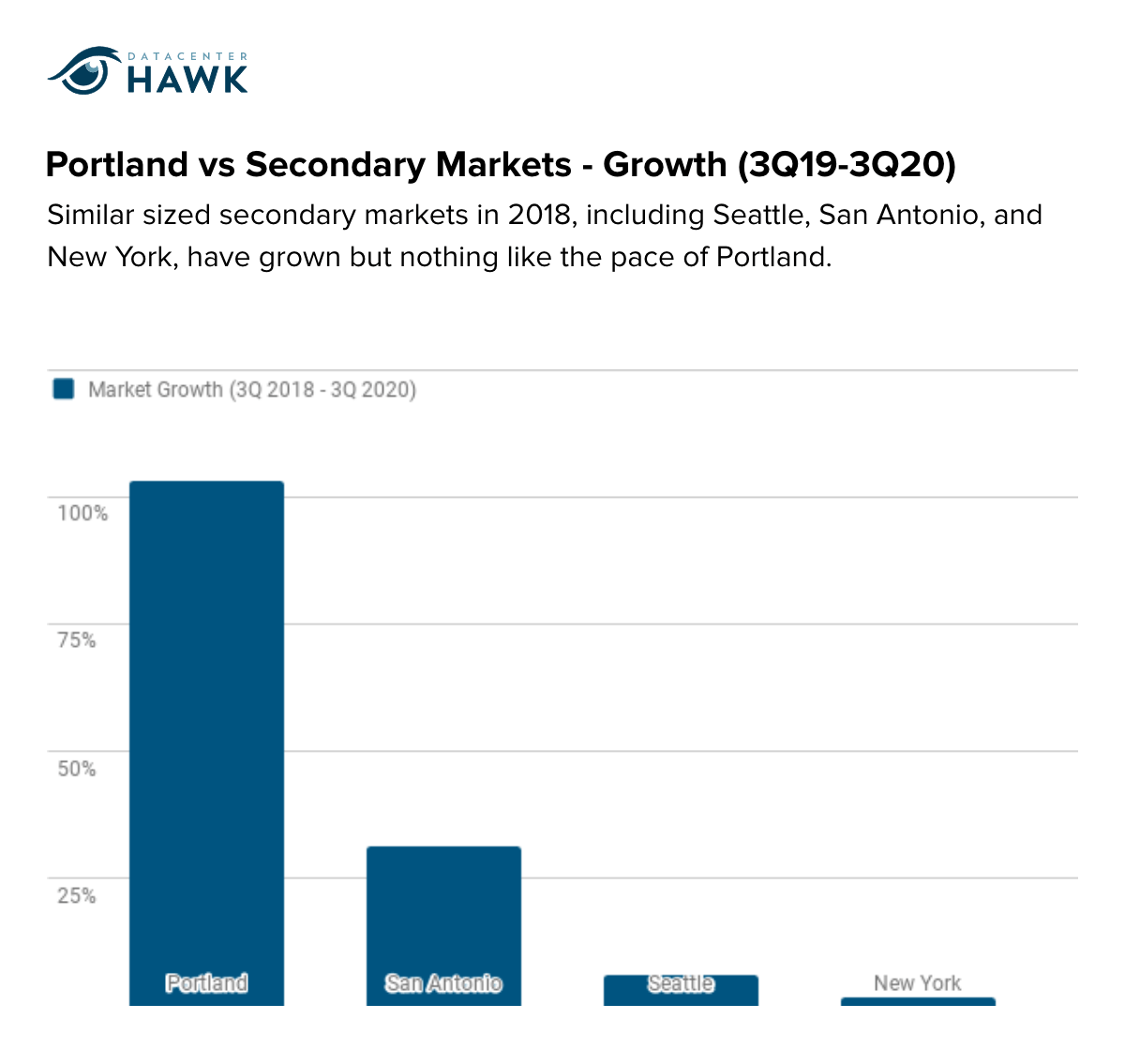 Hillsboro hyperscale demand picks up in second half of 2020
In the second half of 2020, five data center companies began construction or opened the first phase of large data center campuses with an eye towards landing some of these larger deals.
Stack Infrastructure commenced construction with their third Portland data center in October. Stack is currently planning 84 MW of commissioned power at this location.
Flexential started construction with the third data center in their Portland portfolio. The Denver based provider will offer 36MW of commissioned power at this new data center when completed.
T5 Data Centers is currently under construction with the shell of their first data center in Portland.
QTS and NTT also each delivered the first phases of their Hillsboro data center campuses in 3Q 2020. Other providers continuing to grow in the Hillsboro area include Digital Realty and EdgeConneX.

Phased approach for rollout strategy
While the Portland data center market size will increase toward the end of the year and into 2021, it will be done methodically, as data center operators continue to deliver a phased approach to their infrastructure deployment.
One reason for this approach ties back to wise capital deployment. Building only what is needed at the time is designed to maximize the value of the asset, while also still being able to meet the long term investment strategies. Delivering the infrastructure in 3, 4.5, or 6 MW phases has become standard in the industry and will continue to be the approach in markets like Portland.
This strategy also signals to the market that the provider will grow in this market for the long term. Large-scale users are interested in providers committed to the area, as these partnerships are built on long term growth and trust.
Also, having move in space available allows a speed to market approach that users value more today than ever before.
Projected 2021 Outlook
Portland is gearing up for a competitive 2021 as data center operators continue to deliver infrastructure to the market. As Portland positions itself to house large data center requirements, look for 2021 to be a banner year for the West Coast market.
---