Data Center Demand at an All-Time High Across North America, Europe, and APAC Markets
---
By

David Liggitt

·

6/3/2022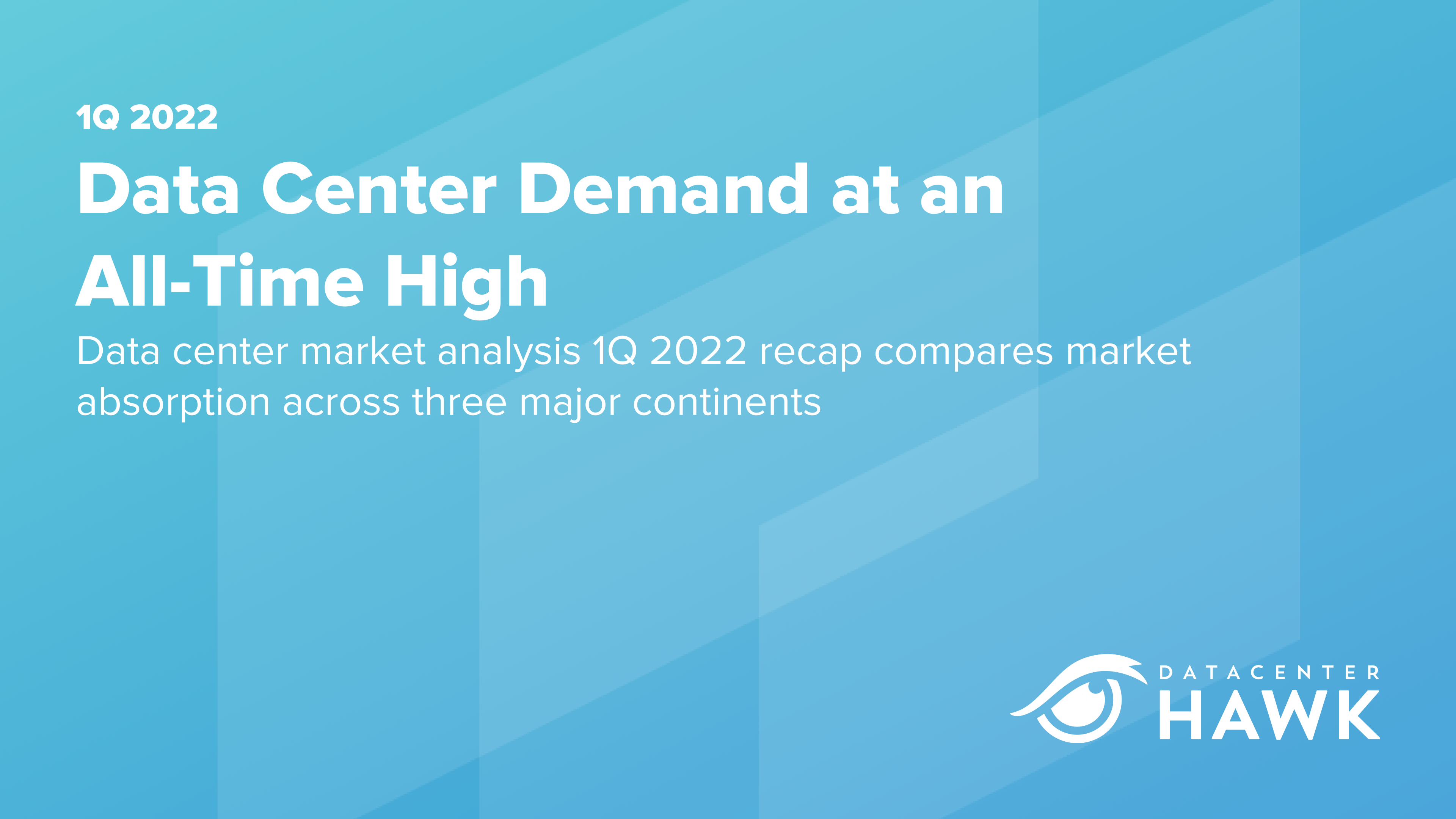 DALLAS--(BUSINESS WIRE)--datacenterHawk, the leading global data center real estate analysis platform, shares highlights from its 1Q 2022 Data Center Market Recap, revealing that global data center demand reached an all-time high in 1Q 2022. During its extensive analysis process conducted at the end of 1Q, the datacenterHawk team analyzed over 10,000 data center real estate data points collected from over 35 individual markets across North America, Europe, and the APAC regions. The data and analysis are detailed in the comprehensive summary released in April 2022, which indicates strong demand in major markets across the data center sector.
datacenterHawk reports that #datacenter demand reached an all-time high in 1Q 2022 across the North American, European, and APAC Markets, and indicates strong demand across the sector its 1Q 2022 Data Center Real Estate Market Recap.
datacenterHawk's quarterly recaps rely on their proprietary standardized methodology to provide real time data that allows users to discover, track, and compare trends and pricing in individual markets across the North American, European, and APAC regions.
"The data center industry is off to a strong start in 2022, marking significant growth in markets around the world. The latest data on our platform reveals the shift in leasing and ownership approach from both hyperscale and enterprise users, highlighting the focus on securing demand needs for today and in the future," comments David Liggitt, datacenterHawk's founder and CEO. "Our data indicates that absorption is increasing and most major markets are at their lowest vacancy rate ever."
Global data center market highlights include:
North America: The top ten markets nearly surpassed demand from all of 2021 in 1Q 2022. The average vacancy among major North American markets has dropped from over 11% to 8.3% year over year. Several markets that previously had ample availability have materially less leasable capacity today. datacenterHawk anticipates that 2022 will be North America's highest demand year to date.
Europe: The European data center region experienced similar demand in 1Q 2022. The datacenterHawk platform shows that supply in major European markets is becoming increasingly challenging to deliver as the region navigates increasing demand, while striving to overcome supply chain challenges and increasing electricity costs. With new regulations recently established in several larger markets, users and developers are looking to secondary markets to establish new homes for this data center demand, which is expected to continue in the long term.
APAC: The top APAC markets also showed similar trends with an absorption rate that was significantly higher than comparative periods in 2021. Demand was strong, with a mix of retail, wholesale, and pre-leased hyperscale requirements. However, due to challenging supply delivery in several of the primary APAC data center hubs, smaller markets continue to attract attention, which will be a trend to monitor going forward into 2Q 2022.
The real time market data can be accessed via Hawk Insight, datacenterHawk's product featuring data center trends, activity, and pricing for more than 35 markets across North America, Europe, and Asia Pacific. datacenterHawk's 2Q 2022 Market Analysis is expected to be released in July 2022.
For more information, visit: https://www.datacenterhawk.com/
To read the 1Q 2022 Data Center Market Recap, click here.
To sign up for Hawk Insight, click here.
About datacenterHawk:
datacenterHawk helps users see data center real estate across North America, Europe, and Asia Pacific with new clarity. Dive into supply, demand, and pricing trends instantly via their online platform or work their standardized data into your platform via API. Their team of experts ensures that all data on their platform is standardized and ready for your analysis. For more unique needs, you can engage datacenterHawk for consulting requirements. At the end of the day, datacenterHawk exists to help you make better decisions about data center real estate. Take their platform for a trial or contact them to see how they might be able to serve you.
---