Digital Realty in Dallas – Past, Present, and Future
---
By

David Liggitt

·

5/23/2017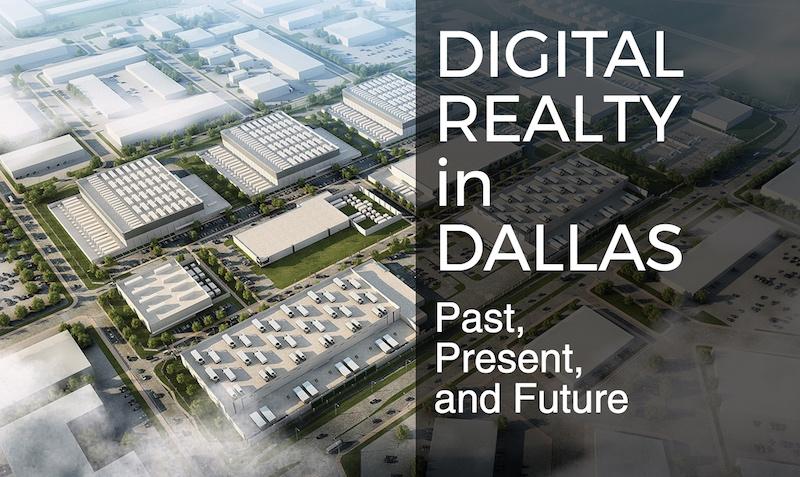 In today's blog, we'll continue our look at how some of the major players in the industry have achieved success in certain markets, thanks to some important and timely decisions they made. In effect, these companies were in the right place at the right time, and made the right moves to take advantage of soaring demands for data centers.
Our focus today is on Digital Realty Trust, commonly known by its stock symbol, DLR. Headquartered in San Francisco, Digital Realty operates more than 24 million sq. ft of technical space throughout the world, with over 100 facilities in its portfolio, in 30 global markets. Digital Realty's ventures into the Dallas market have received significant attention, and have been key in establishing the company's position as a leading data center provider.
As a high-tech industry hub, the Dallas/Fort Worth (DFW) area is currently America's third-largest data center market. With 293 MW of commissioned power and 2.65 million sq. ft. of commissioned data center space, the DFW region offers strong competition between providers offering wholesale, retail, powered shell, and built-to-suit solutions. Demand for data center service is high among local hosting and cloud providers, and also among enterprise customers in the energy and finance industries.
In addition to its central U.S. location, the DFW market has numerous advantages for data center builders and users, including robust power and fiber infrastructure, inexpensive power costs, and state-approved tax incentives for larger data center users (which equals savings passed on to customers). Let's take a look at how DLR established its presence in the Dallas market.
The Past
DLR provides a full spectrum of data center solutions, from colocation and interconnection to multi-megawatt deployments. Its turn-key data center solutions (Turn-Key Flex™) are built using DLR's proprietary POD Architecture™, which uses a modular approach to speed delivery, maximize energy efficiency, and reduce customer costs. The company also offers Powered Base Building® and built-to-suit solutions.
When DLR first completed its initial public offering in November, 2004, the newly-formed company already owned 23 properties worldwide. Their main facility in Dallas at the time was the Univision tower at 2323 Bryan Street downtown. Within two years, DLR had established a no-cost, neutral Internet peering exchange and greatly expanded its Meet-Me-Room at 2323 Bryan, making it one of the premiere Internet gateways for the Dallas/Fort Worth area.
DLR's major push into the DFW market came in 2009, when the company acquired 60% of the former Collins Technology Park in Richardson, Texas, just north of Dallas. The 69-acre seven-building property was a former Alcatel campus, sitting in the heart of Richardson's "Telecom Corridor." DLR purchased the property under a joint venture with Skyline Properties, the site owner, which had already started to redevelop the campus as a data center park.
With the acquisition, DLR immediately became the region's largest wholesale data center carrier. The original seven buildings on the property ranged in size from 15,000 to 250,000 sq. ft., with a total of 797,000 sq. ft., plus greenfield space available for additional builds. DLR originally named the campus "Datacenter Park – Dallas," but has since re-christened it as "Digital Dallas."
A key feature of the campus was its on-site, dual feed, 40 MW substation, which was expanded to 125 megawatts. The private substation had been included with the Collins property's ownership from decades before, and DLR was able to include it as part of their purchase agreement. The onsite substation provides a lower power cost for tenants at Digital Dallas.
In early 2010, DLR signed Softlayer and Terremark as its first two long-term leases for the Digital Dallas campus. Since then, financial, social media, and additional cloud operators have signed significant long term leases at the campus.
In 2016, DLR added a seventh building to its Digital Dallas campus in Richardson, with the completion of a newly-constructed data center at 907 Security Row. The new facility features 70,000 sq. ft. of raised-floor area, 8.4 MW of IT load, and is fully leased.
The Present
DLR is continuing with its expansion of the Digital Dallas campus in Richardson. An eighth building, at 1210 Integrity Drive, is under construction, and will continue to deliver capacity through 2017. This facility will be the largest data center on the campus – offering 36 MW of critical load and 240,000 sq. ft. of raised-floor space at full build-out. DLR has already leased six MW in the facility.
DLR owns 17 data center properties in the Dallas area, totaling approximately 3.3 million sq. ft. of space. Most of these are fully or near-fully leased. In addition to the Digital Dallas campus in Richardson, DLR's DFW-area facilities include:
The Future
In 2016, DLR purchased a 48-acre land tract in Garland for $17 million. When the expansion of the Digital Dallas campus in Richardson is nearing completion, DLR will begin development on the new Garland campus, which is expected to include up to 960,000 sq. ft. of data center space and approximately 72 MW of critical power.
It's speculated by some market analysts that the "building boom" for data centers in the DFW region has only just begun. Some providers (CyrusOne, Equinix, Infomart, QTS) have established a presence there, while others (RagingWire and TierPoint) are just now building or buying their first significant Dallas facilities. But Digital Realty has been a leader in developing the Dallas-Fort Worth area as one of America's primary data center markets, and will no doubt continue to be at the forefront of this market's skyrocketing expansion.
Sign up for a free trial today for an in depth look at data centers in Dallas, and hundreds of other markets around the US and Canada, as well as access to our tools designed to help you find your ideal data center solution with ease.