2Q 2022 Data Center Market Recap
---
By

David Liggitt

·

7/28/2022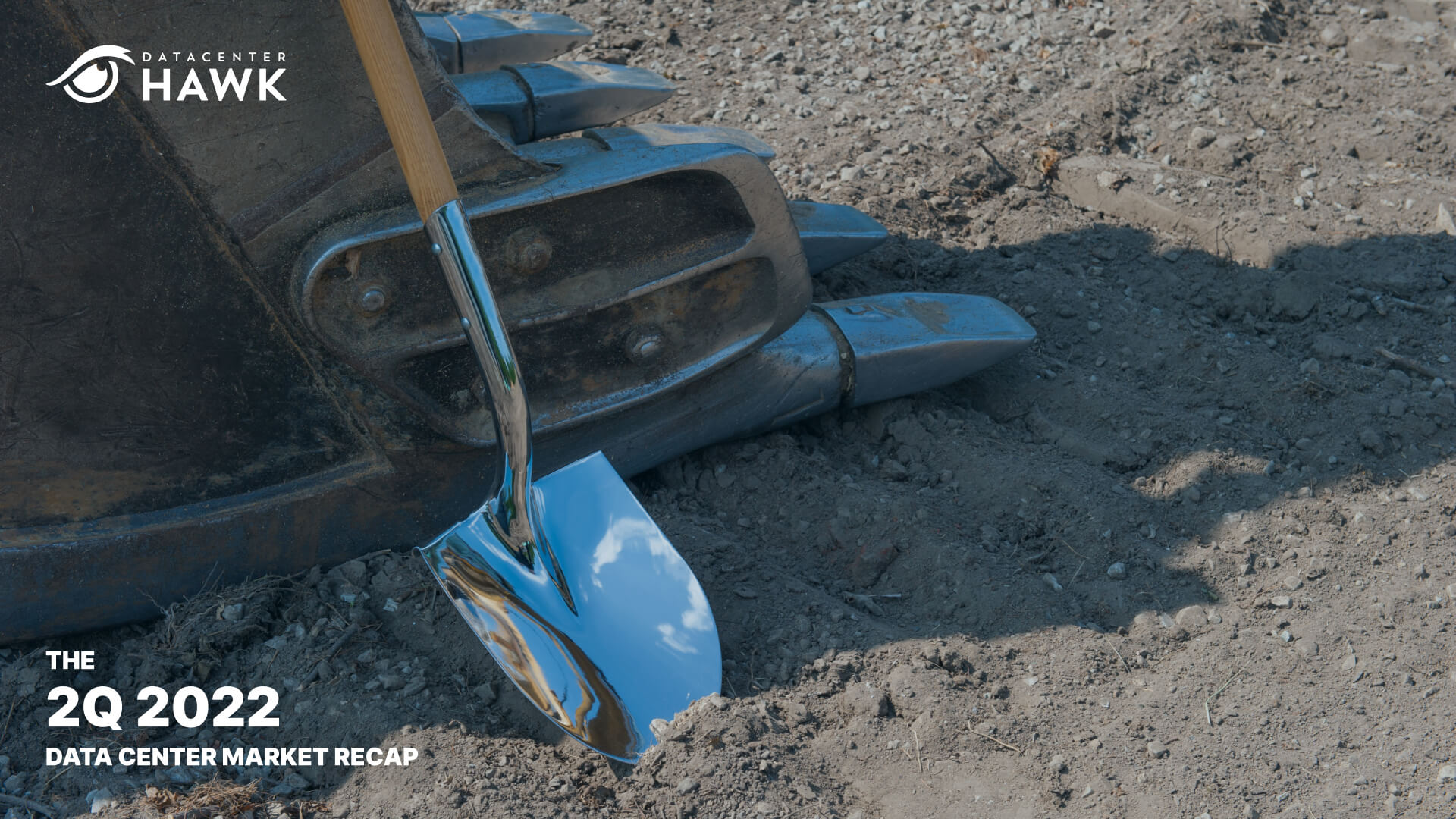 The data center industry finds itself in a new position at the 2022 mid-point. Both increased demand and impacts from supply challenges around the world have created an environment where both data center users and operators are aggressively working to ensure they have the runway to meet their future needs or customer demands. This has resulted in increased site acquisitions, interest in new markets, interest in new areas within current markets, and increased pricing. We explore below.
North American Data Center Markets
The 463 MW of 2Q 2022 demand in the North America data center region marks another strong period of growth. As a result, the North American primary market vacancy is now averaging 4.4%, its lowest point ever. This is the first time the average dropped below 5%. The high demand and low vacancy rate is a good representation of where the overall market in the US and Canada sit today. While there are a few markets with decent capacity available to meet the demand, most are supply constrained with data center operators looking at ways to grow quickly.
Commissioned Power and Vacancy Rate in the Top 10 North American Markets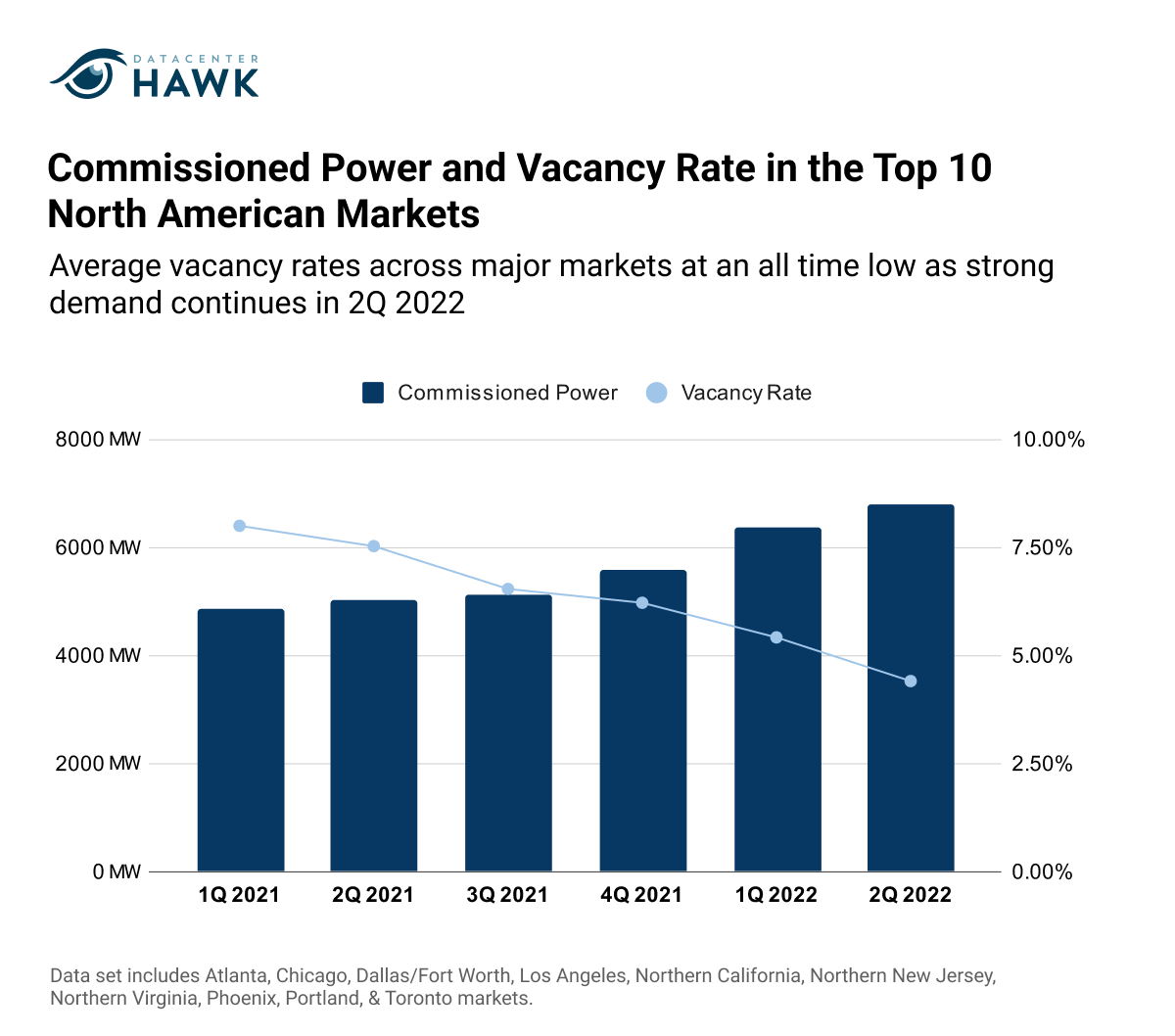 Notable Trends
New locations attract demand because of market challenges
While data center growth is occurring in major data center markets, challenges with power delivery and site availability are pushing growth other places. Markets like Salt Lake City, Richmond, and Austin are seeing increased activity because of these trends.
Competition increases for hyperscale requirements
The demand from the hyperscale sector continues to outpace supply. While this trend won't last forever, increased requirement sizes and lack of suitable options to meet the demand are creating opportunities for data center operators that traditionally do not compete for these requirements.
Limited options for enterprise requirements
Enterprise users with 1-4 MW lease requirements have fewer suitable options today than they did one year ago. The number of these requirements has increased as well, and when it's coupled with demand from the hyperscale sector, these enterprise users are having to evaluate second generation space that is priced higher today.
Looking Forward
Data center users in US and Canadian markets will have to make decisions faster if they want to be in control of their infrastructure future, both at the enterprise and hyperscale level. Look for new areas across the North America region to land new data center development projects, many with pre-leasing already in hand. Pricing increases are expected to continue as well, as data center operators deal with inflation, increase in land pricing, and leverage due to lack of option availability across most markets.
European Data Center Markets
Enterprise and hyperscale users are active across Europe as well. The FLAP-D markets combined for their strongest demand period in 1Q 2022, with a total 197 MW of absorption. 2Q 2022 growth in this region was even greater, with 219 MW of absorption. Frankfurt continues to be a significant growth market and experienced a majority of the demand.
New development opportunities are limited in several major European markets because of the lack of available power infrastructure and land sites suitable for long term development. Although this makes planning projects in the region more challenging, the opportunity exists for data center operators to determine where and how to expand to meet the demand.
Absorption in the Top 5 European Markets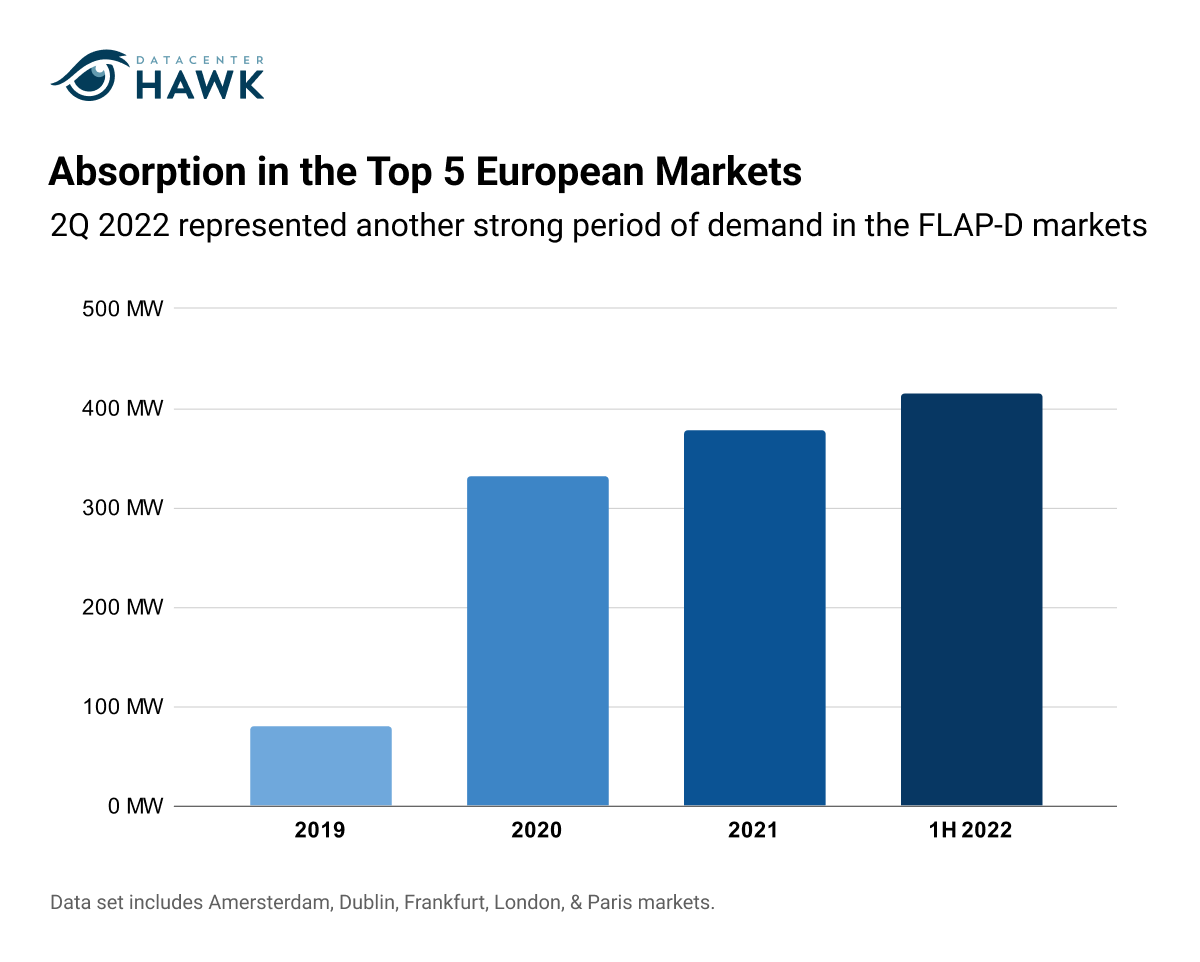 Notable Trends & Markets
Limited supply in several markets
Multiple European markets have little available supply. The average vacancy rate in the FLAP-D markets is now 4.9%, down from 5.9% in 1Q 2022. Over 415 MW of absorption has already occurred in these markets in 2022, higher than any other full year. Power limitations have a distinct impact on future development, with some markets unable to deliver new power infrastructure for several years.
Geopolitical challenges impact the region
Demand for data center space in Europe is contributing to the emergence of secondary markets like Berlin, Madrid, Milan, Zurich, and the Nordics. While ample opportunity still exists in these markets, hyperscale demand has already straining the future large-scale data center supply in several of these regions, leading interest to additional locations to accommodate this growth.
New regulations impacting development
The EU is evaluating new efficiency standards for their Renewable Energies Directive and Energy Efficiency Directive, which would impact data center development. If passed, providers would be required to publish data against four key metrics each year, including data center water usage. While data center providers often provide these metrics to customers, they are rarely required to release them publicly.
Looking Forward
Europe is tackling the impact of hyperscale demand and working to establish a framework that enables responsible future development. What remains to be seen is whether the regulations put in place will be a valuable growing pain that sets the region up for future success or a long-term hindrance for growth.
Demand for data center space will only continue to increase, creating opportunities for development in new markets. Emerging secondary markets will continue to benefit from this demand.
Asia-Pacific Data Center Markets
APAC is emerging at a rapid pace. Many of the region's major markets have limited supply as well, and new markets continue to arise. The geography of the region and its population centers make it difficult to have a true APAC data center hub, and instead necessitates development in major cities or economic centers.
Demand for data center space remains high in the major APAC markets. While planned power remained relatively flat in Hong Kong and Singapore, it increased by 40% in Sydney, which has over five times more planned power than Hong Kong and Singapore combined.
Planned Power in Major Asia Pacific Markets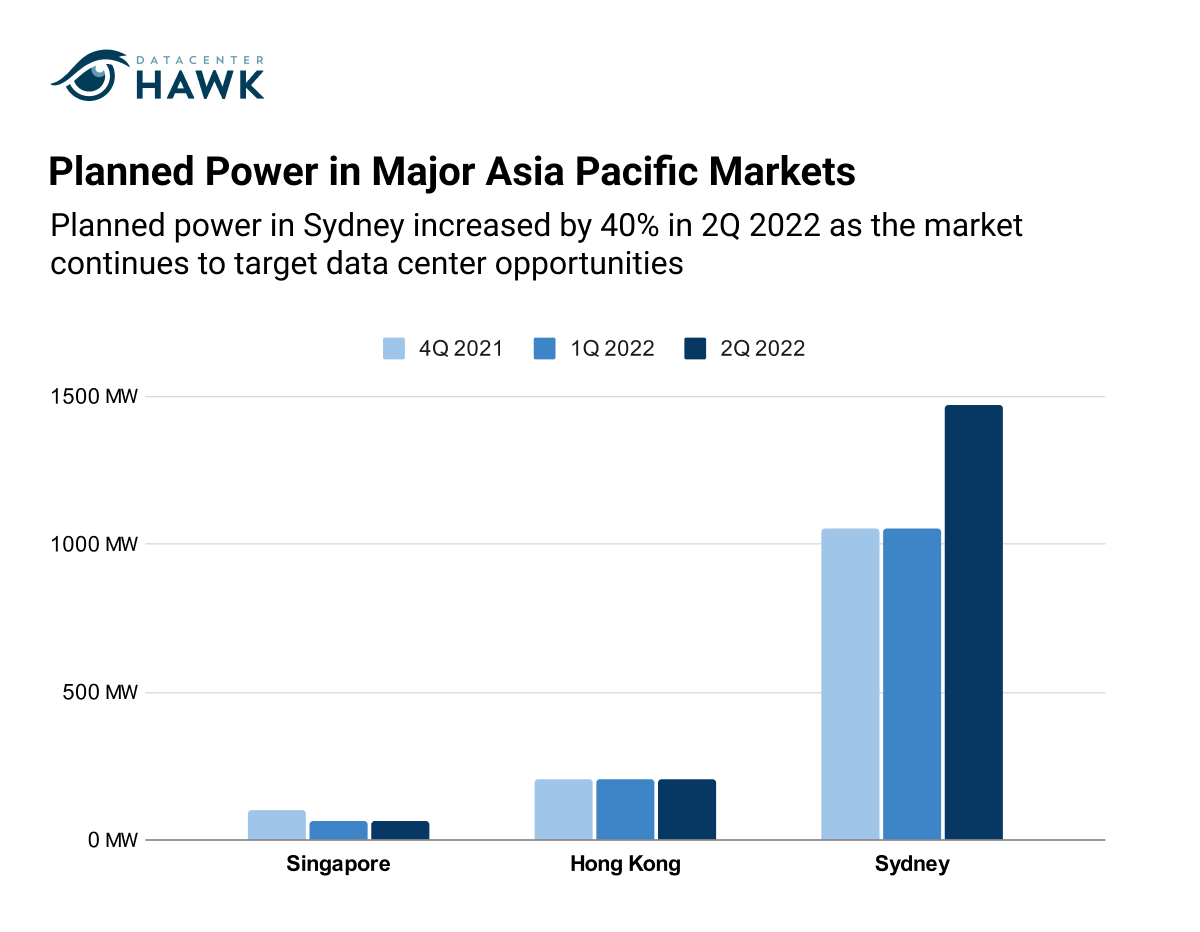 Notable Trends & Markets
Development booming across Australia
Australia's data center market is in a state of rapid growth. Australia's pro-data center sentiment and ability to establish data centers as "state significant development" has improved the permitting and development process. Sydney is the country's largest market, with over 415 MW of commissioned power, growing by over 100 MW over the last year. New large-scale developments are also planned in Melbourne, Brisbane, Canberra, and Perth from hyperscale companies and edge users.
Mature offerings from both domestic and international providers creates competitive market
Both domestic and international data center providers are actively competing for requirements in the APAC region. While international providers are certainly having success establishing a foothold in APAC, providers like AirTrunk, CDC, NextDC in Australia, iAdvantage in Hong Kong, and Keppel and ST Telemedia in Singapore have both a mature footprint in the region and strong relationships with customers.
Looking Forward
The APAC region's growth potential is exciting and the industry is paying attention. Look for continued M&A activity in this region as data center providers look to grow quickly to meet the demand. Working through the development and regulatory environments will be key as data center operators grow their footprint. Lack of supply will continue to increase pricing pressure up in the APAC region for the foreseeable future.
The supply growth in the data center industry is at heights not seen in the market before. All while data center user requirements have grown in both size and number. This points to numerous opportunities for data center users, providers, investors and consultants in the space, which makes the rest of 2022 exciting to watch.
---