Salt Lake City's data center market is poised for growth
---
By

Erica Hashert

·

4/6/2021
There are three primary factors that have contributed to Salt Lake City's evolution as a data center market, including an attractive economic story, a growth in supply delivered to the market, and bigger requirements from end users.
Appealing economic and tax story
The state of Utah enjoys several regional benefits, not least of which being the state's central location between other major US markets.
Often nicknamed "Silicon Slopes" or the "Gateway to the West," Salt Lake City boasts an assortment of economic advantages, including: an ideal climate classified as a "cold desert" with consistently mild temperatures, low power costs (5-6 cents/kWh) sourced from natural gas, steam, and renewable resources, the presence of several long-haul fiber lines, an educated technical workforce, and an aggressively business-driven market.
Utah's tax incentives, too, are a major draw for data center operators looking for cost-efficient locations. Amended in 2020, the exemptions apply to data center equipment purchased by operators or clients that will be utilized in the facility for at least one year. The data center is required to be constructed subsequent to July 2016 to qualify.
These savings, totaling 7.25% in Salt Lake City proper, allow Utah to offer some of the most competitive tax rates in the nation.
Growth in market supply
The Salt Lake City data center market is smaller than nearby markets, but is steadily growing due to an increase in wholesale and hyperscale demand in the area. A number of new development projects in the pipeline, as well as facilities currently under construction, reflect a renewed interest in the Salt Lake City region for data center development.
Some noteworthy activity in the market includes:
Aligned recently delivered Phase 1 of their second West Jordan facility (first completed in Q4 2018). The initial 6 MW tranche will be followed by an additional 42 MW in future phases.
DataBank is developing the company's largest campus after delivering an initial 5.1 MW at SLC5 in 4Q 2020. Additional expansion space in SLC5 and a fifth building on the Bluffdale campus, SLC6, will be built out as demand grows.
New data center operator Novva is currently in development with the first building on their West Jordan campus, set for deployment by July 1.
While there is a good mix of retail and wholesale options in the market, newer deployments are geared toward users with larger requirements. DataBank hopes to attract hyperscale users to the company's West Jordan campus, and Novva is planning to become Utah's largest hyperscale campus by delivering 120 MW at full build.
Salt Lake City's Data Center Market: 2020 & Beyond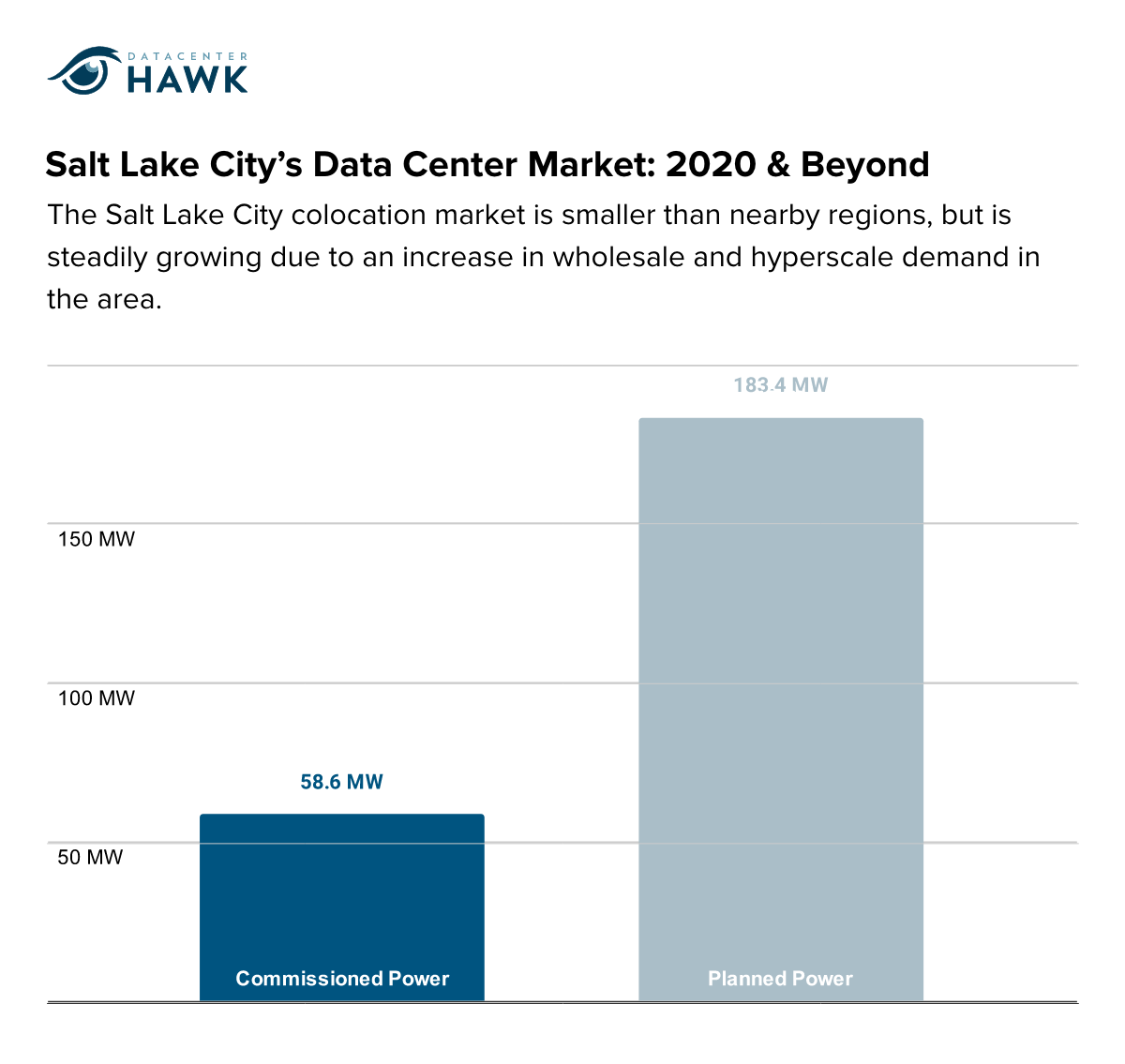 These deployments, combined with Aligned's two-facility campus, bring a significant amount of power to the Salt Lake City market.
Considerable demand from larger users
The Salt Lake City market is seeing an uptick in demand, particularly from users with sizeable requirements.
Salt Lake City has become an appealing market for users looking to relocate their data center operations from nearby metros, attracted by the area's diverse and high-performing economy, low hazard risks, and some of the fastest internet speeds in the US.
As a predominantly retail market, the new wholesale, hyperscale, and enterprise options offered by Aligned and DataBank make Salt Lake City an appealing alternative to other western markets like Phoenix, Silicon Valley, Portland, and Seattle. Larger requirements have started circling the market, leading to greater levels of absorption in recent years.
Enterprise activity in the region has been significant as well, with investment from eBay, Oracle, and various federal entities.
Conclusion
As an aggressively pro-business market, Salt Lake City has seen significant economic changes in recent years. In the data center industry, these changes are indicated by an appealing economic and tax story, an uptick in supply brought to the market, and substantial demand over the past few quarters.
As a secondary US data center market, Salt Lake City is proving itself to be a strategic choice for data center development in the Western United States.
---